Exclusive
EXCLUSIVE: Lindsay Lohan Supervised New Handbag Line From Rehab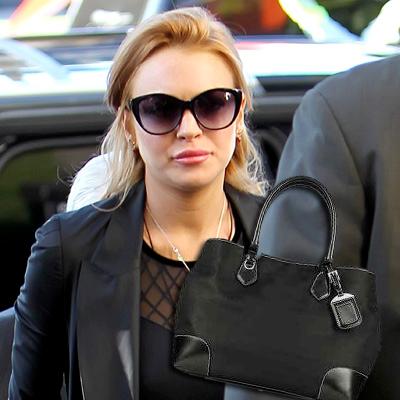 Lindsay Lohan may have told a judge that her clothing line has suffered in her absence while she recovers in rehab, but the Mean Girls star can take solace in the potential success of her 6126 company's Spring 2010 handbag line.
RadarOnline.com spoke exclusively with Paz Shakked, the line's design director, about how they produced an impressive collection amidst the actress' ongoing ordeals.
The line - which has looks spanning from evening bags to everyday looks for the working woman or girl on the go - will retail from about $100 to $145 on average.
Article continues below advertisement
"The concept is that it is affordable for the average American girl. So we have different collections so you can find exactly what you want," Paz told RadarOnline.com.
"It is very beautiful."
The line is already garnering a lot of buzz, Paz said: "All of the big department stores are coming over to see the bags, everyone is very excited about the bags."
Though Lindsay has been in jail and in and out of rehab in the past few months, Paz says they were able to work out a system that wouldn't affect the production of the bag.
"I worked with Lindsay in the beginning of the year on the production...we work around our schedules," Paz said.
"She is so excited. Everything is approved by Lindsay. We work together really well, we have a nice chemistry.
"She has her comments, I have my comments, we produce together really well I think and she's really happy with the collection."
Even though Lohan is currently holed up at the Betty Ford Center in California, Paz says she is "working with Lindsay as usual."
Article continues below advertisement
Despite their hectic lives, the two have made a habit since starting work together to have regular appointments and keep up to date through email.
"I talk to her every chance I get," Paz added. "She was so excited about the launch. She wants a full recap."
The collection's look book will be available around Thanksgiving.
Paz, who has designed for such renowned fashion houses including Dolce & Gabbana, said the actress blew her away with her attention to detail.
She added: "She's very creative; she has a lot of comments on the hardware. If you see the collection we have unique hardware. We have 6126, that is not just a logo on the bag, we have it in a variety of different hardwares. On one collection it is a charm, each number of 6126 is a charm.
"One thing is Lindsay is very experienced in fashion... she is very, very sensitive. She knows how a bag should feel on your shoulder, feel on your hand. All of that makes this collection. She is very critical if the hardware is too heavy or too light. If the studs are pointed or not. She is very critical.