What Happens When An LGBT Advocate Goes Undercover At The Homophobic Westboro Baptist Church?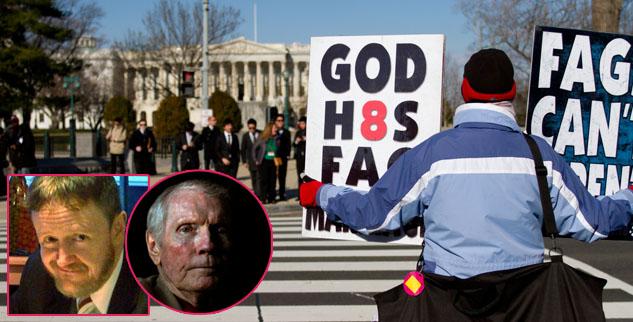 The Westboro Baptist Church is an organization filled with hatred — especially toward homosexuals – so what happens when an LGBT activist goes undercover in the church and spends three days with founder Fred Phelps?
Author Jamie Leo wrote a first-person narrative for in which he detailed the time he spent with a friend undercover in the Kansas organization 10 years ago, comparing it only to the fear he once felt going undercover at a few Ku Klux Klan events previously.
Article continues below advertisement
"In the summer of 1994, writer Donna Minkowitz asked me if I would join her in Kansas to help with logistics and leverage our collective gay-activist connections," Leo wrote.
"As you might imagine, the LGBTQ people in Kansas were in distress over the ugly actions of Phelps and his extended family, and we were met with warm response for coming all the way from New York. We did note a sense of real intimidation; some LGBTQ Kansans we spoke to were deeply traumatized, not so much by Phelps' grotesqueness but by the tacit complicity they observed in how the greater public shrugged off the media-savvy efforts of the Westboro Baptist Church."
As RadarOnline.com has previously reported, the Westboro Baptist Church has been known to picket funerals, protest celebrity concerts who have views that don't mesh with theirs, and former members have admitted they would "pray for people to die."
"For me and Donna to go undercover, a quick run to the giant Salvation Army in Hell's Kitchen (and about $20) had us frumpily wardrobed for our junket. I was initially concerned that once in costume, Donna ended up reading a little more Hasidic than psycho-Christian, but since I originally hail from the Midwest, I felt confident that this fashion nuance would not be discernible to the Midwestern eye," Leo wrote.
Article continues below advertisement
"Donna made the phone call to arrange to meet Phelps. Our cover story about being writers for a small Christian publication was much easier to pull off then; the Internet had not matured yet, so Phelps could not Google our 'publication' to find a 404 error or pictures of both Donna and me in the gay press… Still, his eagerness to bring us 'inside the compound' gave us both pause."
Leo describes Phelps the day they met him as in "workday mode" and bragged about the "impressive academic accomplishments of his offspring and their spouses."
"Phelps' demeanor was relaxed. He was generally uninterested in us personally, only casually testing us, throwing around some of his favorite expressions about New York City rectumites,'" he wrote.
TWEET PIC: See Star Trek's George Takei Message To Fred Phelps
"He would carefully check our expressions each time he'd say 'sodomite,' 'fag,' 'monkey,' or 'liberal' -- all of which he savored gleefully as 'naughty words.' But overall he was more methodical in discussing with us the importance of his calling -- more than one time gesturing to the children out the window.
Article continues below advertisement
Phelp died on March 19 at the age of 84 after reportedly being ex-communicated from his own church in August of 2013, for advocating a "kinder approach."
"The queasiest day for us both was when Phelps urged us to join his party in protesting a Deepak Chopra lecture. Of course, it was the ultimate fun-house-mirror test as we stood with Phelps and his clan and their 'FAGS BURN IN HELL' signs (as far behind and to the side as possible without stirring suspicion), watching so many of an educated audience -- about to hear Chopra's enlightened ideas -- seethe with rage and snarl as they passed us," Leo wrote.
"On our last day Phelps thanked us for our time and expressed hope that we would succeed on our mission for Christ. And it seemed that Fred's guardian angels were looking out for him. Back at the motel we learned that days of footage that I'd shot had jammed, irreparably, in the rental video camera. We'd lost it all: Fred's jokes, his wife's cautious but gracious hospitality, some frothing new-agers."
Leo concludes by bringing up Phelps' death as an opportunity to "study and dissect as much as we can of Fred Phelps so that we might learn how to understand and resist missionaries for and exporters of hate, in ourselves as in the Other."