Do Not Rest In Peace: Hateful Founder Of Westboro Baptist Church, Fred Phelps, Dead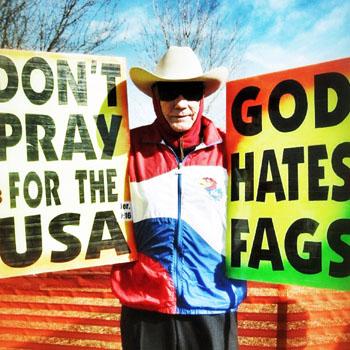 Article continues below advertisement
Phelps had also been ex-communicated from his own church in August of 2013, for reportedly advocating a "kinder approach."
Members of the hateful church were often photographed with picket signs saying things like, "God Hates F*gs", "Thank God for dead soldiers", "Don't Pray For The USA" and "Thank God For 9/11."
The church's extreme ideology was based on the claim that deaths were a direct result of America's tolerance for homosexuality and abortion, and the nation's immorality.
As of 2011, the church — which is primarily made up of the Phelps family — had about 40 members.
Westboro Baptist Church was defined by The Southern Poverty Law Center as a hate group.
The controversial church leader's death was immediately met with jubilation online:
However, some insist on taking the high road — sending well-wishes to his family and not being the kind of person he was.
Before Phelps' death, church family member Margie Phelps had revealed that he would not be having a funeral as they are not in line with their church policy.