Shocking Discovery: Kurt Cobain Calls Wife Courtney Love A 'B*tch,' Claims She Spent His Money 'Doping And Whoring' In Newly Released Death Scene Note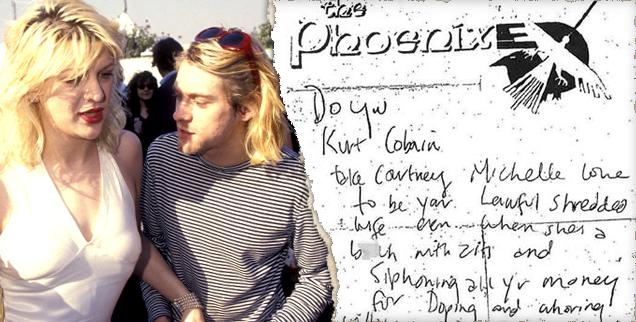 UPDATE May 5: Love told the Seattle Times in a May 2 email she, not Cobain, wrote the note in question, and that she meant for it to be read in a sarcastic tone. The singer claimed she penned it in 1991, three years before her husband's death.
* * *
A shocking note discovered in Kurt Cobain's wallet at the time of his death has been released twenty years after his drug-fueled suicide— and it's sure to add fuel to the fire for theorists who believe the rocker's wife, Courtney Love, was somehow connected to his tragic demise.
Article continues below advertisement
The Nirvana frontman was found dead of a shotgun wound to the head in his Seattle home on April 8, 1994. He was 27.
CBS News first reported that the hand-written note, scribbled on stationary from San Francisco's Phoenix Hotel, seems to mock the troubled young couple's 1992 marriage vows. "Do you Kurt Cobain take Courtney Michelle Love to be your lawful shredded wife," the paper begins, "even when she's a b**ch with zits and siphoning all (your) money for doping and whoring..."
Cobain's negative portrayal of former Hole singer Love— who very publicly battled heroin addiction alongside her husband— is in stark contrast to the loving language from the suicide note discovered near his body.
"I have a goddess of a wife who sweats ambition and empathy," Cobain wrote in the infamous letter.
Though a recent Seattle Police Department review of the case confirmed the medical examiner's original conclusion that the death was indeed a suicide, the newly disclosed note is sure to rock the music world.
Article continues below advertisement
In 2004, journalists Ian Halperin and Max Wallace released Love and Death: The Murder of Kurt Cobain, which suggested that Love killed her husband after a period of turmoil in their marriage.
Love, the estranged mother of Cobain's now 21-year-old daughter Frances Bean, recently honored her late husband with his bandmates at Nirvana's induction to the Rock & Roll Hall of Fame in New York on April 10.