Seattle Cops Release New Kurt Cobain Death Photos, Reveal Doomed Grunge King's Drug Den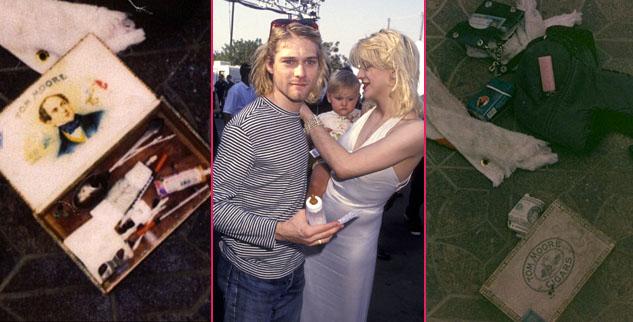 Seattle police on Thursday, in anticipation of the clamor surrounding the 20th anniversary of Kurt Cobain's death, released a set of four rolls of previously undeveloped 35 mm photographs taken at the scene of the grunge king's April 8, 1994 suicide.
Items seen in the set of photos include signs of the singer's heroin abuse, including shots of needles and spoons; and common household items such as cigarettes, sunglasses, money and Cobain's identification card.
Article continues below advertisement
Spokeswoman Renee Witt said "nothing earth-shattering" was learned upon further examination of the images and follow-up interviews, and that the "outcome of the case has not changed," meaning authorities stand by their original assessment that the "Smells Like Teen Spirit" singer, following a massive heroin binge, blew himself away with a 20-gauge shotgun.
Detective Mike Ciesynski reiterated that Cobain's suicide remained a "closed case" while attempting to quiet the longtime whispers of foul play. (Emerald City authorities said they receive weekly requests, predominantly via Twitter, to take another look into the premature death.)
"I was requested to look at the case because I'm a cold case detective because it is 20 years later and it's a high media case, and there were always these conspiracy theorists out there, and so I was asked to look at the case and review it," Ciesynski told KIRO 7.
Ciesynski told the station that no death shots of Cobain will be released.
"What are people going to gain from seeing pictures of Kurt Cobain laying on the ground with his hair blown back, with blood coming out of his nose and trauma to his eyes from a penetrating shotgun wound?
Article continues below advertisement
"How's that going to benefit anybody?"
Watch the video on RadarOnline.com
The 27-year-old musician -- who nearly died after a tranquilizer overdose in Rome a month earlier -- was at his professional high peak at the time of his death, as the band's In Utero was one of the top-selling albums on the charts at the time; and the group had well-established its' indelible fingerprint on music and culture, ushering out the era of hair bands and heavy metal with their flannel-clad alternative rock revolution.
We'll keep you updated on the latest in this story, right here on Radar.