Meant To Be? Kim Kardashian 'Was Obsessed With' Kanye West While Dating Reggie Bush & Even Tried To Initiate An Affair, Insider Claims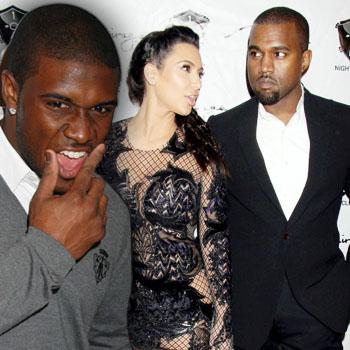 When Kim Kardashian and Kanye West get married this May, they'll only have been dating for roughly two years. But their love story is much longer than that. RadarOnline.com has learned that the Keeping Up with the Kardashians star has had her eye on her future husband for almost five years, and was even scheming to get with him while she was dating Reggie Bush!
During Kardashian's relationship with Bush, which lasted from 2007 to 2010, "Kim attempted several times to initiate an affair with Kanye and even was busted by Reggie for it," a source close to Kardashian tells Radar. "It lead to a couple of their short term break-ups."
Article continues below advertisement
The sex tape star who dated her former flame on and off for two years has long dodged allegations about having hush-hush sexual encounters and discreet trysts with the "Jesus Walks" rapper, 36.
The source confirms, "Even Kim herself admits that while she loved Reggie, she was obsessed with Kanye because she found him fashionable and exciting in a way that Reggie just wasn't."
Despite having some awkward run-ins with her ex in recent years, Kardashian's friend claims she is over the moon with her baby daddy and rapper fiancé – and wants nothing to do with Bush.
"She is absolutely one-hundred percent not in contact with Reggie, despite crossing paths with him," the source insists. "She even lets Kanye look at her phone every night to put his doubts at ease."
Celebs Who Have Slammed The Kardashians
Says the source, "She has believed for a while that Kanye is the love of her life."
This is not the first time Kardashian, 33, has been at the center of allegations she and West secretly had a relationship: In January 2012, the rapper's ex-girlfriend, Amber Rose, said Kim instigated an affair by calling, texting and sending Kanye racy photos of herself.
Article continues below advertisement
"Kim is one of the main reasons why me and Kanye are not together," Rose said at the time, adding, "She's a home wrecker! They were both cheating on me and Reggie with each other."
"She was sending pictures, and I was like, 'Kim, just stop. Don't be that person,'" Rose claimed, but apparently Kim didn't care enough to respond when Amber emailed her for an explanation.
"I thought at least she'd be woman enough to respond to me," Rose said. "She never responded."
And last year, the cheating allegations resurfaced AGAIN when Myla Sinanaj, the ex-girlfriend of Kris Humphries, went on a series of Twitter rants, alleging that she eye-witnessed West going into the reality star's hotel suite at 2 a.m. on one morning during a shift at the luxury W Hotel, where Sinanaj worked.
"I was the one making Kanye keys to her suit at 2am!!! Back when she was supposed to be with the love of her life Reggie Bush right??" Sinanaj tweeted back in May 2013.
Sinanaj finished her diatribe with a message for West: "My advice to Kanye is 'if they cheat with you, they cheat on you.' Remember that sh*t."