'My Brother's Not Nearly Black Enough For Me!': Khloé Kardashian Jokes About Incest & Taste In Men Whilst Guest Hosting 'Chelsea Lately'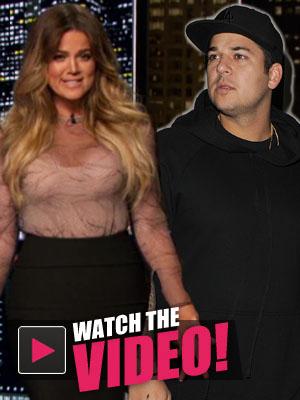 Article continues below advertisement
Sticking with the pop culture-oriented punchlines, Khloé also made reference to her recent purchase of Justin Bieber's Calabasas home, referencing the Canadian crooner's well-documented reputation as a neighbor from hell.
"I'm not saying if that's true," she said, "but if it is, this marks the first time a neighborhood will be happy to see a Kardashian move in!"
She also made a tongue-in-cheek to the ongoing drama between Tori Spelling and Dean McDermott, and the parallels between their televised marital breakdown to her's and Odom's.
Article continues below advertisement
"I find this disgusting, that people let cameras film their entire personal lives," she joked. "Especially through divorce. That's disgusting.
"Don't you people have morals? No morals or respect. I'm blown away people do this for a living."
Watch the video on RadarOnline.com
In related news, a new report from the NY Daily News indicates there's been some tension between Khloé and Trina, the rapper who was dating Montana prior to Khloé, and has a longstanding friendship with sister Kim.
"Kim and Trina are good friends, Khloe and Trina were friends, and Kim is very upset over all of this," a source told the paper.
Chelsea Lately airs weeknights at 11/10c on E!