Exclusive
He Finally Gets It! Lamar Odom Concedes Marriage To Khloé Kardashian 'Is Over'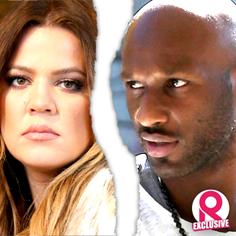 As Lamar Odom's estranged wife, Khloé Kardashian continues to hang out with French Montana, the NBA star finally concedes that the former couple has no chance at a reconciliation, and he is expected to formally submit a response to the reality starlet's divorce petition in the next several weeks, RadarOnline.com is exclusively reporting.
"Lamar finally gets it, his marriage to Khloé is over," a source told RadarOnline.com.
Article continues below advertisement
"There was a time when Lamar said he would never give up on getting back together with Khloé, but he recognizes she has obviously moved on. He will tell his attorney to submit a response to Khloé's divorce petition. It isn't expected to be a long drawn out divorce, since there is an iron clad prenup in place," the source said.
RadarOnline.com broke the story: Odom had been "blowing up her phone" lately with "desperate calls," and Kardashian is not pleased.
The source revealed, "She's been refusing to take his calls lately."
Now that she's been spotted out with French Montana on the heels of her public partying with The Game, the source claims Odom is getting jealous.
REVEALED: 35 Secrets The Kardashians Want Hidden
"Khloe is out in public with new guys all over them and it is killing Lamar," the source tells RadarOnline.com. "Yeah, he was totally with other women first, but he doesn't want Khloe to shove it in his face that she is moving on. Lamar is jealous and gets mad when she refuses to talk to him."
Article continues below advertisement
Meanwhile, even though the NBA regular season is nearing completion, ESPN is reporting the New York Knicks might sign Odom.
The move would reunite Odom with former Lakers head coach, Phil Jackson, who recently became the president of the New York Knicks. Odom likely wouldn't see any playing time this season, but the deal would include an unguaranteed second year for next season.
Odom has been spending time with ex-girlfriend and baby mama, Liza Morales, and their two children, Destiny, 15, and Lamar Jr., 11 in New York City.
However, our source says, "It's family time only and there is no romance involved between Lamar and Liza. Liza is extremely supportive of Lamar's continued sobriety."