Exclusive
Lose My Number! Khloe Kardashian Refusing Lamar Odom's Desperate Phone Calls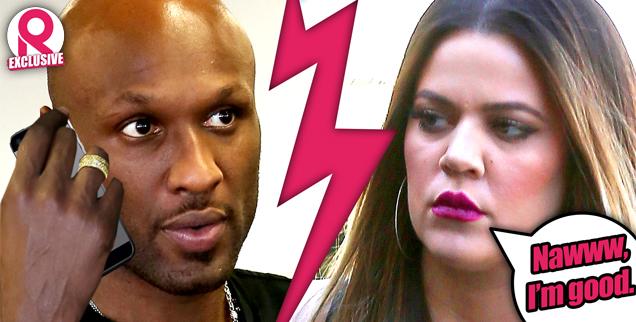 Khloe Kardashian is still technically married to Lamar Odom, but she's not afraid to hit the decline button when her estranged husband's name shows up on her iPhone. Though the couple had been in touch recently as they prepare to divorce, RadarOnline.com has exclusively learned that Kardashian is currently giving him the silent treatment!
Odom has been "blowing up her phone" lately with "desperate calls," an insider tells RadarOnline.com, and Kardashian is not pleased.
Article continues below advertisement
The source reveals, "She's been refusing to take his calls lately."
Now that she's been spotted out with rapper French Montana on the heels of her public partying with The Game, the source claims Odom is getting jealous.
"Khloe is out in public with new guys all over them and it is killing Lamar," the source tells RadarOnline.com. "Yeah, he was totally with other women first, but he doesn't want Khloe to shove it in his face that she is moving on. Lamar is jealous and gets mad when she refuses to talk to him."
While their split was shown on Keeping up with the Kardashians, the couple have yet to officially divorce and Odom is blaming Kardashian for the hold up.
"Lamar has been telling people that they don't have to waste any more time with each other," the insider says. "He wanted to get back with her, he's been blowing up her phone lately, but since she wants nothing to do with him he's saying he's done with her too. He's making a lot of desperate calls."
As their legal issues drag on, the source told RadarOnline.com it is less likely that they'll ever reunite.
"Lamar and Khloe are done," the source says. " He tried and she tried but now there's nothing to go back to."