Exclusive
Pretty Scary! Julia Roberts Ex-Military Security Guards Slam Dunk Crazed Intruder Into Cactus At Her $9.5M Malibu Home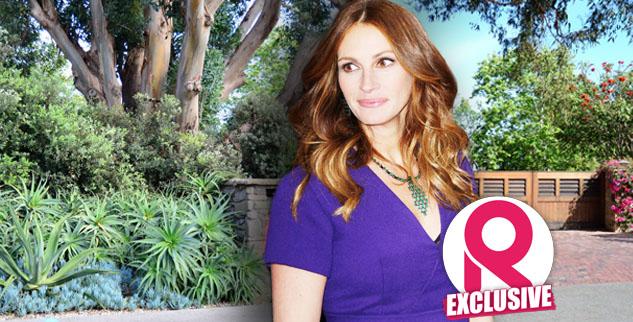 Article continues below advertisement
But RadarOnline.com has learned that her security team, comprised of all ex-US military, stopped him from attacking the Pretty Woman star by grabbing him and one "slam dunked" him into the spiky thorns, according to an eye-witness.
One close neighbor, who saw the incident, explained to RadarOnline.com: "It was about one in the afternoon when four sheriff cars came rushing down the road, they were white ones, which means it's the chief in the area, they're not messing around. I thought someone had been murdered or there was a fire.
"By the time I got there, the man was just crawling out of the cactus bush outside her property and the security guards were talking to the police. One of them was boasting saying: 'I'm an ex-Marine and I just picked him up and threw him head first in the cactus.'
"The security told me that it was some crazed stalker guy. He was a brave man for even trying to get in her place, as it's swarming with her detail and we have the Sheriff's Department come round every half an hour checking the street.
Article continues below advertisement
According to the neighbor, by the time police arrived at Roberts' multi-million dollar mansion, the man had managed to clamber out of the bushes and run off. The exclusive street is home to a string of celebs including Sean Penn and Charlie Sheen.
"The police didn't bother to try and catch him. They talked to the security then left," the eyewitness told RadarOnline.com.
Another neighbor said Roberts is so concerned with security that she now has ex-US officers guarding her gate inside and out and new cameras all over the property and the whole road. Her Malibu pad is a five-bedroom, six-bathroom beach house, built in 1964, which she purchased in 2003.
The resident told RadarOnline.com: "Since that incident, she's had a guy in a blacked out car sat at the end of the cul-de-sac monitoring the comings and goings of the road. She's got cameras everywhere over her property, including two inside her gate. She's obviously determined for this not to happen again."
A spokesperson for the Malibu/Lost Hills Police Station told RadarOnline.com they couldn't comment on the incident.