Exclusive
Monster Bill! Lawyers Who Repped Jesse James In Divorce From Sandra Bullock Suing Him For $500K Over Unpaid Invoices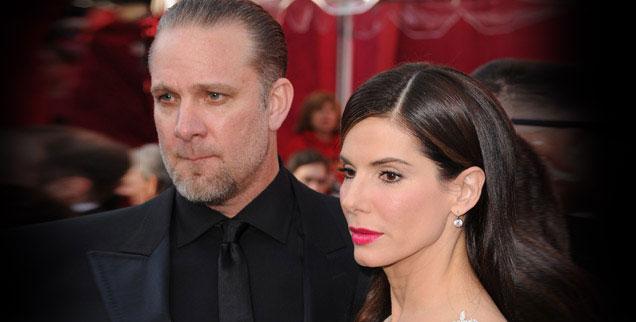 Nearly five years after Jesse James' extensive cheating was exposed and his marriage to Sandra Bullock went down in flames, he's still feeling the repercussions. RadarOnline.com has exclusively learned that the attorneys who represented James in his divorce from the Oscar winner are suing him for more than $500,000 over unpaid bills!
According to court documents obtained by Radar, James agreed to pay California law firm Yanny & Smith a "fixed monthly retainer" beginning in March 2009, around the time his affair with Michelle "Bombshell" McGee went public.
Article continues below advertisement
READ Jesse James' Lawyers Demand He Pay His Bill!
From that time until July 23, 2012, Yanny & Smith "provided legal services to" James, 44, including the following instances, according to the papers: "Successfully defending James through trial and post-trial motions in a suit concerning an alleged joint venture involving a proposed clothing line to be sold at Wal-Mart where 12 to 14 million dollars of compensatory damages were being demanded of James" but he won the suit; "Negotiation and settlement of suit threatened by a paparazzo;" "initiation of arbitration against a company for breach of sponsorship and content streaming agreement;" "overseeing the resolution of the dissolution of" his marriage to Bullock; and "representation in other adversarial proceedings including allegations of sexual harassment, disputes regarding defendant's failure to pay monies due to other people, etc."
"Invoices were generated periodically and sent to defendant," the documents claim, but they weren't all paid. "The total balance due on all unpaid and partially paid invoices is in excess of $100,000," Yanny & Smith allege, "which defendant James agreed to pay and which remains unpaid at the time this action was filed."
What's more, they insist that James has obstinately refused to pay, accusing him of "fraud" and intentionally dodging their invoices.
As such, the firm is seeking more than $500,000 in unpaid bills, interest and damages.
For the latest on the suit, stay tuned to RadarOnline.com!