James Franco Admits To Kissing Lindsay Lohan 10 Years Ago — But Swears On All That Is Holy He Didn't Sleep With Her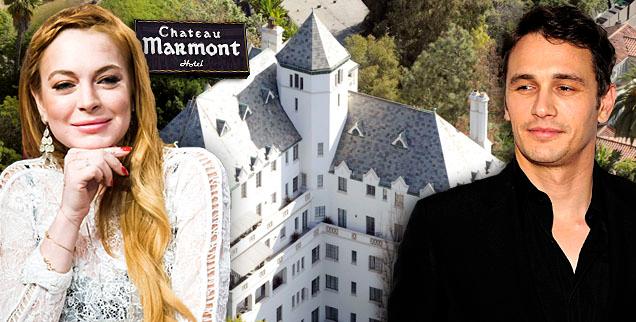 Lindsay Lohan was the topic d'jour as James Franco appeared on The Howard Stern Show, as the enigmatic actor repeatedly denied having sex with the actress after his inclusion on a list of her past lovers, only fessing up to trading a few "lame" kisses with the redheaded controversy magnet dating back ten years.
"It's a lie: I will swear on my mother's life that I never had sex with her," the 127 Hours star, currently appearing on Broadway in Of Mice And Men, told the King of All Media. "I will swear on anything you ask that I have never had sex with Lindsay Lohan.
Article continues below advertisement
"All right, we maybe kissed… it was lame. I can't believe she put me on that private list, she's so delusional!" Franco told Stern, who compared the actor (in his denials) to Bill Clinton.
Franco said the star-crossed smooch took place a decade ago — at the height of Lilo's (legitimate) fame with Mean Girls, a breakout hit — as he filmed Spider-Man 2 in the Big Apple.
"When we made out it was so long ago … I was like a nice guy; It was also like, 'What the hell am I doing?' She was young," he said.
Franco, in his new poetry book "Directing Herbert White," penned two poems about the 27-year-old actress, who he got to know intimately — but not that intimately — when they were both living at the famed Chateau Marmont hotel in Los Angeles.
"I don't know what to say other than we were at this hotel during a very dark period of her history and I think she liked — it seemed pretty damn clear — that she liked me," Franco said.
Of their times at the celeb hive (famous for John Belushi's 1982 drug death), Franco said Lohan would frequently visit his room — at one point, even cajoling a clerk to provide him with a key to his room.
"She even broke into my room one time: I was on the couch and opened my eyes and there's Lindsay in my room at 3 a.m.," he recalled, noting that he read her a story.
As we previously reported, Lohan's alleged 36 conquests included big names such as Franco, the late Heath Ledger, Adam Levine, Zac Efron, Justin Timberlake, Colin Farrell, Joaquin Phoenix, Garrett Hedlund, 50 Shades of Grey star Jamie Dornan, Wilmer Valderrama, and Lukas Haas.