Seth Rogen Mocks James Franco, With Help From Zooey Deschanel & Taylor Swift, On 'SNL'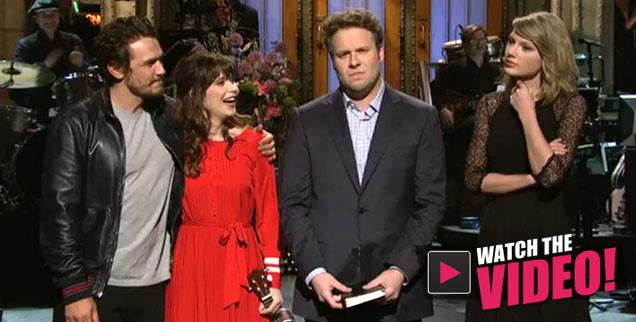 Seth Rogen mocked his good pal, James Franco, on Saturday Night Live, for getting caught up in a texting scandal with a 17-year-old girl.
With Rogen claiming it was actually him who'd been flirting with Franco, and had been left waiting for three days at the hotel where they'd agreed to meet, Franco popped into Rogen's monologue.
Although it was Rogen's third time hosting SNL, his friends seemed to think he needed help. Zooey Deschanel and Taylor Swift both made surprise appearances.
Article continues below advertisement