Hollywood Walk Of Shame: Roll Call Of Lindsay Lohan's '36 Lovers' Revealed — And You'll Never Believe Who's On The List!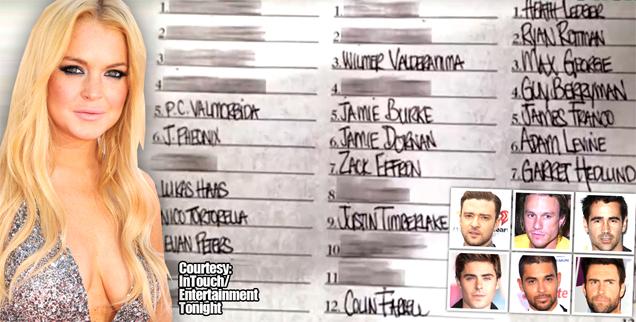 It's a roster that includes Academy Award winners, TV beefcakes, a joker, one fellow with moves like Jagger and another who brought sexy back.
Lindsay Lohan, during a drunken kickback session with friends, composed "her personal conquest list" of 36 men she had slept with in Hollywood, In Touch reported.
Among the biggest names leading the LiLo lover parade include the late Heath Ledger, James Franco, Adam Levine, Zac Efron, Justin Timberlake, Colin Farrell and Joaquin Phoenix.
Article continues below advertisement
Other show biz studs, who the Long Island native claims to have made love to, include 50 Shades Of Grey star Jamie Dornan, Tron: Legacy star Garrett Hedlund, noted Hollywood lothario Wilmer Valderrama, Scream 4 star Nico Tortorella, Coldplay bassist Guy Berryman, The Wanted singer Max George, American Horror Story star Evan Peters, and child star-turned-character actor Lukas Haas.
The wayward 27-year-old Mean Girls starlet, whose career has been derailed by ongoing drug and alcohol demons, composed the list Jan. 30, 2013 in front of a roomful of eyewitnesses.
"They were giggling and talking s*** about people in the industry," an eyewitness said of the occasion, adding that the actress -- who "had to remind herself of who they were" at times while writing down the names -- "was trying to impress her friends with the list and then tossed it aside."
A source told the magazine that "the list has some pretty big names on it, and they're not all single guys," which led to many of the names on it being blacked out; the source added that if it was released in its' original form, the list would "rock several Hollywood relationships to the core."
MORE ON:
Wilmer Valderrama