Lindsay Lohan Makes Raunchy Sex Joke About Harry Styles While Guest Hosting Chelsea Lately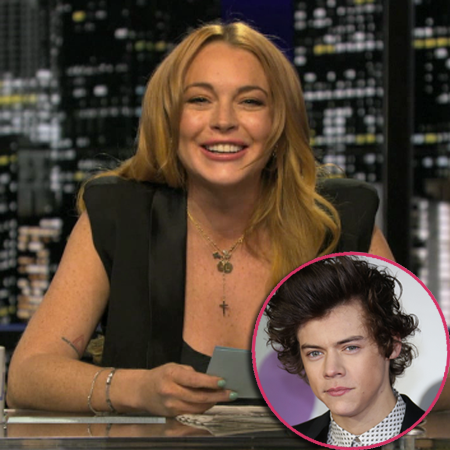 Lindsay Lohan is fresh out of rehab and killed it on her first job – guest hosting on Chelsea Lately where she ripped jokes about having sex with Harry Styles.
Sitting in for Chelsea Handler, a newly sober Lindsay took a humorous jab at her own boy band sex romps.
"Harry Styles was on the cover of British GQ, he was questioned by the interviewer about rumors that he's bisexual with a DJ named Nick," Lindsay read and then joked "I've been there, I have," and the audience roared at the sexual innuendo, perhaps a reference to her romantic relationship with DJ Samantha Ronson.
Article continues below advertisement
Continuing on, Lindsay read: "He answered we're just friends. When asked how many people he slept with harry said yes, lower than 50, you're cornering me, I've only ever had sex with two people."
She deadpanned: "Yeah, he's never hung out with The Wanted and he's obviously not counting oral," mocking her own sexscapades with Max George.
Laughing all the way, Lindsay apologized to the boy band star, saying "Sorry, Harry."
Lindsay Lohan's guest hosting stint of Chelsea Lately will air on E! on Monday, August 5.