Chelsea Handler Probes Max George About Scandalous Lindsay Lohan Hookup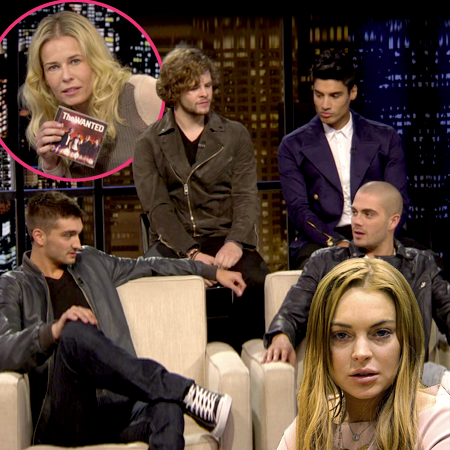 Lindsay Lohan's infamous hookup with Max George was the hot story before she was sentenced to 90 days lockdown rehab and Chelsea Handler used her deadpan wit to put him in the hot seat about their torrid relationship.
Lindsay was arrested in a club for punching a girl reportedly after a fight over The Wanted's resident hottie Max, and then she followed him to multiple shows and even was spotted on stage with him, fueling the rumors of their hot and heavy tryst.
Article continues below advertisement
Now The Wanted guys have decamped to LA and are starring in their own reality show, but Chelsea cut right to the chase about Max's sex life.
"Which one of you was penetrating Lindsay Lohan?" she asked on Chelsea Lately Tuesday night and the guys laughed and tried to dodge the question.
Pulling the ultimate rude guy move, Max pretended like he wasn't the one who was Lindsay's brief fling.
"No idea," Max said, then tried to joke that Lindsay was hooking up with another guy in the band.
"Now that was Nathan Sykes. Here's not here!"
That's a different tune from what he was saying about her last year, when he told a DJ that their relationship was good for her.
"We can stay out of trouble and keep her out of trouble," Max told Z100 Radio.
The Wanted Life premieres on E! Sunday, June 2 at 10 p.m.
radar_embed service=eonline src="http://www.eonline.com/static/videoplayer/platform_players/swf/CEGDynamicPlayer.swf" width="480" height="270" fv="autoPlay=false&width=480&height=270&ID=Embed&releasePID=wfZuX0Yhe866&playerId=Embed&skinUrl=http://www.eonline.com/static/videoplayer/platform_players/swf/skinCEGPlayer.swf&locId=US"