Sore Loser Ice Cube Insists His 'We Was Robbed' Whine About Losing Out On MTV Movie Award To Late Paul Walker Was Not Insensitive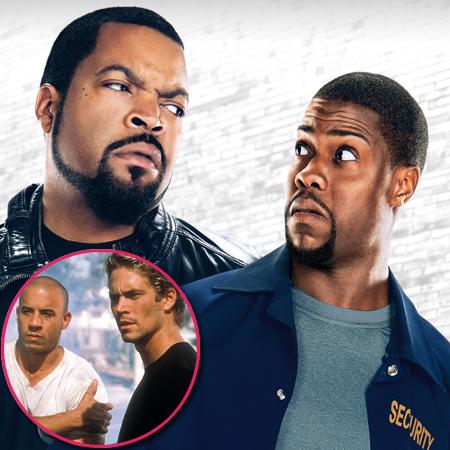 Ice Cube, upset on losing out at Sunday's MTV Movie Awards, said that he and Ride Along co-star Kevin Hart should have won the honors for Best Onscreen Duo instead of The Fast & The Furious series' Vin Diesel and the late Paul Walker -- then recanted the controversial comment, claiming his tone was not properly reflected in print.
"We was robbed," the Check Yo Self rapper groused to USA Today Monday. "We had the best chemistry of everybody nominated, for us not to win was crazy. We were the best onscreen duo, period.
Article continues below advertisement
"Shame on you, MTV."
The said that Walker and Diesel won out of "sympathy," and that the network would have been better served honoring the actor "before he passed away" last November in a car accident.
The 44-year-old, whose real name is O'Shea Jackson, said he left the proceedings halfway through because he "just wasn't into it.
"If you ain't into it, why torture yourself? As soon as you get bored, get up and leave."
The rapper, who, according to online reports, was speaking in joking tone to USA Today, later took to Twitter after receiving some flak as the comments took a different tone in print.
"I wasn't really mad we didn't win," he tweeted. "So I would never diss the actors who won. Not even Paul Walker. Seriously people!
"Don't believe the hype."
Regarding his "sympathy vote" comment, he clarified, "We should honor people before they die. That's all. Shame on you 'make something out of nothing' a** reporters."
He concluded his defensive rant in saying, "Ice Cube is not a sore loser. I was born losing. This winning sh*t is what I gotta get use to … and Paul Walker fans don't trip. I was a fan too."