Carmen Electra Steams Up New Muscle & Fitness In Sexy Q&A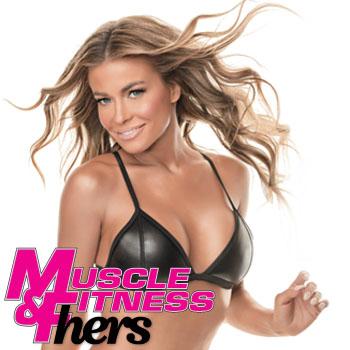 Article continues below advertisement
Asked what kind of man she wants these days, Electra said "a bad boy with a good heart, a good sense of humor, and someone who'll understand and be supportive of my career."
She said some men tend to go overboard -- "pretty out there" -- in vying for her attention, including sending X-rated photos.
Traits that turn Electra on in a man?
"You have to be confident, but also able to show your vulnerability," she said. "I also love a man who takes charge."
As for turn-offs, Electra said she's not partial to men who are "too judgmental, narrow-minded, and lazy."
Asked about her radiant sex appeal, Electra said, "I can't really explain what makes me this way … I've never been shy about sexuality."
She added that she feels her sexiest body part is her eyes.
"You can say so much with just a look; I can never hide what I'm feeling."
The rest of gorgeous Electra's Q&A is in April's Muscle & Fitness HERS with Wrestlemania main eventer John Cena on the cover.