How Did Aaron Eckhart Get 'Strong Like A Gorilla' For 'I, Frankenstein?' Find Out Here …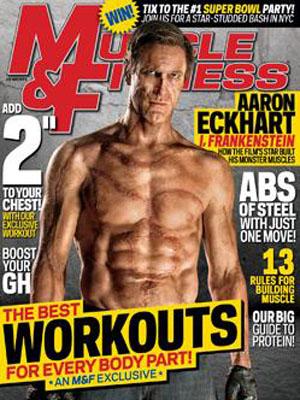 Actor Aaron Eckhart, appearing on the cover of the upcoming issue Muscle & Fitness, opens up about the monstrous training regimen he underwent for his role in the highly-anticipated film I, Frankenstein.
"I wanted to be strong like a gorilla -- to have that animal instinct," the A-lister told Muscle & Fitness of the unrelenting six-month training plan, in which he worked out six days a week. "When you're pushing yourself that far, your intellect takes a back seat and that animal aspect takes over."
Article continues below advertisement
As far as mentally getting in the role, the hunky blond said he channeled long-dormant feelings to bring out his inner beast for the role of Adam Frankenstein.
"I've felt like the monster of Frankenstein. Being rejected, feeling this sense of unworthiness -- I've certainly been there as an adolescent."
The star of hits like The Dark Knight, Olympus Has Fallen and Thank You for Smoking, said he also studied how gorillas move and posture themselves.
I, Frankenstein hit theaters Jan. 24, while February's Muscle & Fitness hits newsstands Monday.