'True Blood' Star Joe Manganiello Opens Up About Alcohol-Fueled Past: 'My Life Was In Ruins'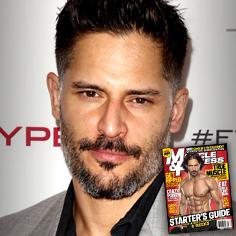 Life wasn't always so glamorous for True Blood star Joe Manganiello. In a new interview, the actor reveals that in his 20s, his life spiraled out of control after he became addicted to alcohol.
"I was a drinking long before I moved to Los Angeles. When you're young and you are successful at a young age, and you have negative habits, the success validates in your mind everything you're doing across the board," he revealed to RadarOnline.com at a Muscle & Fitness event on Wednesday night to celebrate his cover story in the magazine's latest issue.
Article continues below advertisement
The buff actor admitted the entertainment industry didn't affect him, but rather he was a "ticking time bomb" and "was pretty lost."
Speaking about his troubled past, the hunky star opened up about hitting rock bottom and knew he had to turn his life around.
"Well, I think the sheriffs department shook me. They knocked on my door and gave me 5 minutes to collect my belongings before they changed the locks on me. My car got impounded and auctioned off. It wasn't one thing necessarily, but a whole bunch of things.
"I was at a place where I needed to quit drinking. And it had been a long time coming and I was hurting myself and hurting other people around me and it just became the time to stop. My life was in ruins and I needed to start walking my way back out of those ruins," he recalled.
Now 11 years sober,Manganiello credits his role on True Blood as a motivator to stay clean and work on those sexy six-pack abs.
Article continues below advertisement
"True Blood hired me the way that I was. If I showed up the way that I was, I still would have collected my paycheck. The role of Alcide on True Blood was an opportunity to push myself and see what I could possibly become.
"There was no gun to my head, nobody forced me to do any of this. It was basically at 33 years old, what do you want the rest of your life to look like? Do you want to know what you're capable of or not? And I used it as my motivator," he said of his muscular bod.