Hookers, Fake Names & Scandalized Doormen: New Tell-All Rips The Lid Off Kate Hudson & A-Rod's Steamy Affair -- PLUS Did He Cheat On Cameron Diaz?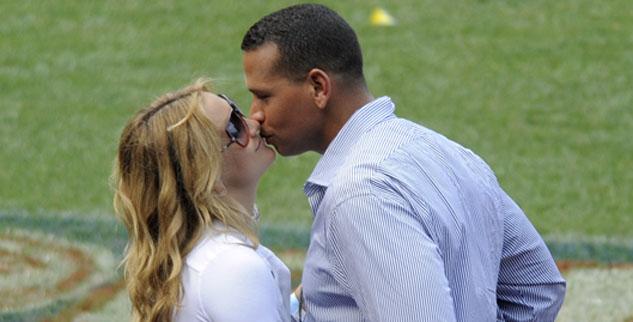 For a brief moment in the summer of 2009, Alex Rodriguez and Kate Hudson poised to become Hollywood's next power couple. After trying in vain to keep their relationship under wraps as his divorce from wife Cynthia was finalized, the two went public at Rodriguez's Yankees games, only to suddenly split just a few months later.
Now, after five years, a bombshell new tell-all is ripping the lid of the couple's whirlwind romance: In House of Outrageous Fortune, author Michael Gross talked to residents of A-Rod's building who saw the affair unfold firsthand -- and only RadarOnline.com has the racy details!
Article continues below advertisement
Rodriguez was still married to wife Cynthia when he moved into the notorious condo at Fifteen Central Park West, but Gross claims that didn't stop him from philandering.
"One day his wife Cynthia showed up and said she was Mrs. Smith," Gross claims, citing a former staffer who says, "We didn't know who she was so we wouldn't let her in. Why didn't she say who she was?"
Horrible Bosses! Hollywood's Assistants Reveal The Outrageous Demands Of Their Honchos
"She was uptight, nonresponsive, and belligerent," the former building staffer says, and they soon found out why.
"When Alex came in ten minutes later we knew," the former staffer claims. "He was with Goldie Hawn's daughter."
The staffer concludes, "He was a douche. No one liked him." Another building resident claims he was "not a nice guy, an unfriendly narcissist."
Article continues below advertisement
Perhaps Hudson agreed, because she reportedly dumped him in early 2010 and he moved on to Cameron Diaz.
The bubbly blonde "was way too nice for A-Rod," the staffer insists, flaming she often hailed her own cab right out front.
"But sometimes you had to get a cab and bring it down into the garage to wait for her," the staffer claims. "I got hassles from the drivers, but I'd just say, 'You'll be happy when you see who you're waiting for.'"
(A-Rod's reps denied Gross' claims when they first emerged last year, calling the allegations "100% false.")
But that wasn't the worst of what went on in the tony building.
The staffer claims that other residents indulged in "some crazy parties. Illegal things for sure. Dealers come weekly … Paraphernalia. Sexual toys…a woman walking around with very sexy see-through lingerie…"
For more steamy revelations from Fifteen Central Park West, stay tuned to RadarOnline.com!