VIDEO: Cameron Diaz Gives Letterman 'An Exclusive' On Why She Fed A-Rod Popcorn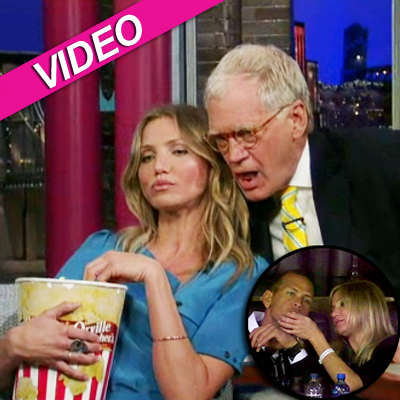 Cameron Diaz appeared on The Late Show with David Letterman on Monday, and told the Indiana funnyman she'd give him "an exclusive" on why she fed her baseball slugger boyfriend Alex Rodriguez popcorn at this year's Super bowl.
It was this past February in Arlington, Texas where Diaz, 38, was famously caught on camera feeding her Rodriguez popcorn, as they watched the Packers and Steelers go at it.
Article continues below advertisement
Diaz told Letterman that when A-Rod went in for one of the final pieces of the movie snack, Diaz got protective of her popcorn, but then had a change of heart, telling the Yankee third baseman, "I love you too much, I'm gonna give it to you, you deserve it," and feeding him (as the world watched on).
Watch the video on RadarOnline.com
Diaz said she didn't make much of the motherly gesture until "ten minutes later, we're blowing up on our Blackberries!"
That's when Dave got in on the act: Diaz was presented with a fresh bucket of popcorn; she played along, seductively feeding the late night legend a few kernels.
It was a busy night for the talented beauty, who also attended the New York premiere of her new film Bad Teacher, which opens nationwide Friday.
The Late Show airs weeknights at 11:35/10:35c on CBS.
RELATED STORIES: