Exclusive
Johnny Weir & Husband's Marriage BITES The Dust — Split Comes 2 Weeks After Domestic Violence Court Case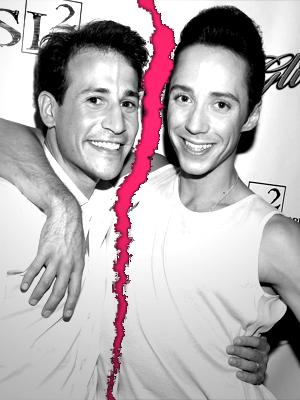 Two weeks after he appeared in a New Jersey court, as RadarOnline.com exclusively reported, flamboyant Olympic figure skater Johnny Weir has announced his split from his husband.
Weir, 29, announced via Twitter that he and husband Victor Voronov, a lawyer, had split after three years of marriage.
"It is with great sadness that I announce that my husband and I are no longer together," the ice skater and TV personality later said in a statement.
Article continues below advertisement
Before Sochi, where he commentated for NBC, Weir had managed to keep a major secret: He was involved in an domestic violence with Voronov that would later have its courtroom sequel on March 4.
About a month before the games in Russia, Weir's husband filed a police report in which he alleged the three-time U.S. national champion of biting him.
Despite the allegations, the couple had appeared to have worked out their differences when they appeared in a Lyndhurst, New Jersey, courtroom, requesting a judge dismiss the case.
Weir married Voronov in December 2011 and recently spoke about their dynamic relationship.
"A marriage between two guys is different than what I imagine a marriage between a man and a woman to be," he told Access Hollywood in February. "I mean, we're both constantly trying to fight to wear the pants in the relationship.
"It's constant fireworks," Weir added. "It's very boom, boom, boom."