Jennifer Aniston: I'd Like To Have Gisele's Body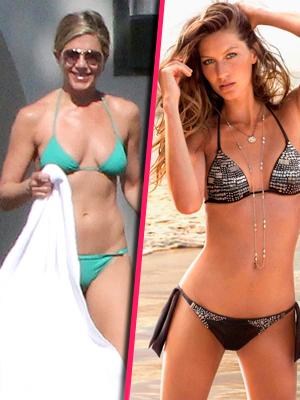 Jennifer Aniston is the envy of millions of women, but there's one she envies, in particular: Gisele Bundchen.
I'd "like to have Gisele's body, just 'cause, why not?" the A-lister, who also says she aspires "to be able to ski like a crazy person, like Lindsey Vonn," tells Self magazine.
The 45-year-old Friends star opened up to the publication about her healthy -- and not-so-healthy -- habits.
"The food I love so much that if I dropped it on the floor, I'd eat it anyway is a nacho," she said. "I fry the chips myself. Just take a tortilla, cut it into triangles, and throw 'em in coconut oil."
Article continues below advertisement
Aniston said she averages about 40 minutes a day of workouts, integrating elements such as "cross training with sit-ups, running, weights.
"I had a knee injury, so I'm not at my fighting-shape weight, which is fine," the starlet said. "It's nice to be a little curvier sometimes."
For more on Jennifer Aniston, keep it here on RadarOnline.com.