Exclusive
Duggar Girls In Crisis: Eating Disorders, 'Physical Desire' & Other Sins REVEALED In New Tell-All Book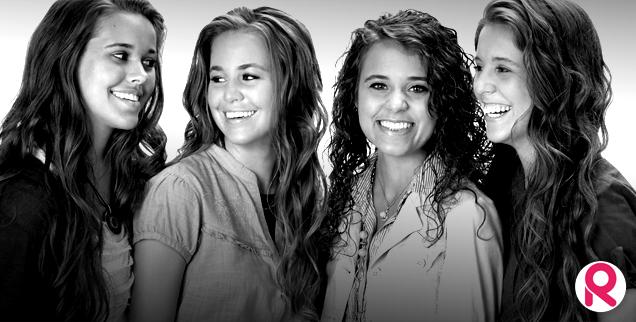 With 19 Kids And Counting, the Duggar family has no shortage of personalities -- and issues.
RadarOnline.com has learned that eldest daughters Jana, Jill, Jessa and Jinger are opening up for the first time about their darkest secrets in a new book, Growing Up Duggar. And their stories of bulimia, sexual frustration, angry outbursts and more make it clear that their reality is a lot different from the one you see on TV.
Article continues below advertisement
First and foremost, the girls want fans to know that despite their cheery attitudes on the show, they struggle with the same issues a lot of other women do -- including obsessing over their weight.
"You may think that kids like the Duggars, who are homeschooled and don't watch TV or read secular magazines, are immune from feelings like that, but we're not!" they write in the book. "We've experienced some of those same negative feelings about the girl in the mirror that you may be feeling right now or have felt in the past."
Article continues below advertisement
Fifteen-year-old Michelle "had a sweet personality and winsome ways that made her one of the most popular girls in her high school," they write. "Thin and beautiful, she was a girl every guy probably wished he could date. But Mom told us those characteristics were all just outward appearances."
I May Be Too Old: Michelle Duggar Still Trying For More Children
On the inside, she "battled intense insecurity, destructive thoughts and emotions, and al longing for 'real happiness. …And when she looked in the mirror, she didn't like what she saw …"
"She began to envy the girls who were thinner than she was, and she started believing that she would be happy if only she could be as thin as they were," they write. "She heard about another girl who tried to control her weight through what turned out to be a destructive eating disorder. Not realizing how dangerous it was, Michelle thought it might work for her and soon her obsession to stay thin started controlling her life."
Article continues below advertisement
It was only finding God -- and her husband-to-be Jim Bob-- that saved her, they claim.
But when it comes to finding their own Princes Charming, the Duggar girls say they are proceeding with lots of caution.
They admit, "God has created us to have a natural physical desire toward men. When these feelings arise, we thank God for making us 'normal.' … But during our single years, this physical attraction, if not carefully controlled, can also be one of the biggest sources of temptation and struggles."
To avoid that, they say, they avoid spending time alone with guys because "it's easy to put yourself into physical and moral danger and give into those emotions or sensual thoughts that promise pleasant, but only temporary, fulfillment."
And even when they're alone, they say, they are able to "control what's going on in our minds. By censoring our thoughts through the filter of God's word, we will be able to recant any wrong thoughts or temptations that try to sneak in, and throw out the lies the devil is sending our way."
Article continues below advertisement
But as they start "courting" future husbands, as Jessa recently has begun to do, they can't exactly look to their parents' example in that regard. Jim Bob and Michelle have admitted they went too far too fast physically before marriage, and hope their daughters don't follow in their footsteps.
Their parents also aren't the best example when it comes to anger, the girls admit.
"Not that he has a major anger problem," they write, but Jim Bob has struggled with his temper after growing up with an angry dad. "Over the years he has gotten much better about not letting things stir up a spirit of anger in him," the 19 Kids and Counting stars write, "but he would be the first to admit he has not completely conquered it."
Michelle has admitted to having issues with anger as well, and the girls reveal that she's found a unique way of dealing with it -- by whispering. "When Mom whispers," they claim, "most likely someone is in trouble."
For more on the weird and wonderful world of the Duggars, through the eldest girls' eyes, stay tuned to Radar!