Carmen Electra Steams Up New Muscle & Fitness In Sexy Q&A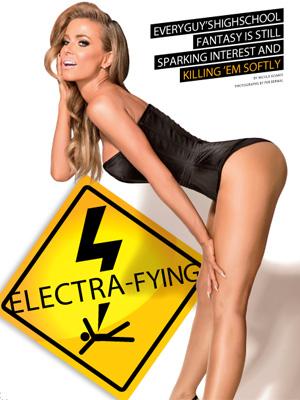 Carmen Electra opens up about love and sex in the current issue of Muscle & Fitness, and we've got a sneak peek at the revealing chat right here on RadarOnline.com.
The former Baywatch beauty, who's been in relationships with bad boys such as rocker Dave Navarro, frequent North Korea visitor Dennis Rodman, and sex tape innovator Tommy Lee, said her penchant for the fellas from the wrong side of the tracks hasn't subsided.
Article continues below advertisement
Asked what kind of man she wants these days, Electra said "a bad boy with a good heart, a good sense of humor, and someone who'll understand and be supportive of my career."
She said some men tend to go overboard -- "pretty out there" -- in vying for her attention, including sending X-rated photos.
Traits that turn Electra on in a man?
"You have to be confident, but also able to show your vulnerability," she said. "I also love a man who takes charge."
As for turn-offs, Electra said she's not partial to men who are "too judgmental, narrow-minded, and lazy."
Asked about her radiant sex appeal, Electra said, "I can't really explain what makes me this way … I've never been shy about sexuality."
She added that she feels her sexiest body part is her eyes.
"You can say so much with just a look; I can never hide what I'm feeling."
The rest of gorgeous Electra's Q&A is in April's Muscle & Fitness with Wrestlemania main eventer John Cena on the cover.