Brandi Glanville's New Foul Mouthed Rant: I've Done More For 'That Bleep' Lisa Vanderpump Than She's Done For Me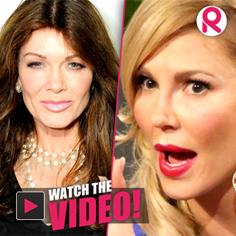 Article continues below advertisement
Asked if she felt she was being ungrateful to Lisa after she "fed" her, Brandi shot back, "Who the f*** fed me?
Watch the video on RadarOnline.com (Warning: Content Is Explicit)
"Honestly, she didn't feed me -- she was a good friend, she loaned me a dress one time, and that was her big 'thing.'"
Glanville pointed out the utterly uncomfortable pow-wows she's had with Scheana Marie, Lisa's restaurant underling who slept with her ex-husband Eddie Cibrian during their marriage.
"I sat down with Scheana for her multiple times to help her show" Vanderpump Rules, Glanville said. "And I said, 'I will do whatever you like,' and then I got tired of it.
"So I think I fed that b***h!"
When asked why many in the cast had seemingly turned on the (once-above reproach) Vanderpump, Glanville said there was power in numbers, as many of her castmates were reticent to tangle with the powerful reality star one-on-one.
"I don't think all of the girls try to go against her, I think we all had separate issues with her," Glanville said. "When one person opens that door, it felt like 'We can all do it,' but separately.
"It's hard to go against her," Glanville said, "because she is so perfect."
Stay with Radar for more Brandi news.