Lisa Vanderpump Accuses Brandi Glanville Of Fabricating Lies To Create A Wedge Between Her 'RHOBH' Co-Stars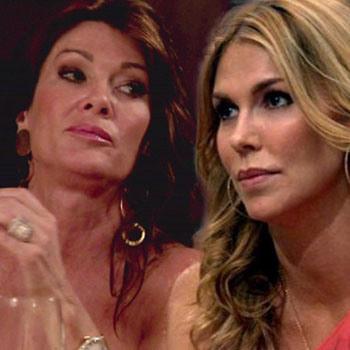 Caught in a rumor mill of allegations regarding deportation and bankruptcy, Lisa Vanderpump can't catch a break from Brandi Glanville's unfiltered mouth!
Now, the British beauty is doing damage control once again after Glanville told Kyle Richards that Vanderpump had put copies of magazines containing articles about Richards' husband Mauricio's alleged cheating into her suitcase, hoping that she would take them on the gang's Palm Springs trip.
Article continues below advertisement
"My heart was broken, but I survived," Vanderpump wrote on her on her Bravo blog following Monday's episode of Real Housewives of Beverly Hills.
Speaking specifically about Glanville, she added: "I understand from her comments and tweets she felt a little jealous at the fact that Kyle and I were on friendly terms… So she decided to create a wedge between us -- fabricating a story that would question our friendship, hence creating a lie that would have severe consequences."
The Vanderpump Rules star stood by her word that she didn't put the magazines in Glanville's bag.
"I knew that there was a nonsensical story coming out, as Brandi had told me, about Mauricio in the same magazine that had stated I had a sex tape, which I also didn't buy or look at. I preferred to go on that weekend knowing I hadn't seen it or bought it, so I wouldn't have to comment on it," she stated.
With her public feuding with Glanville seemingly far from over, Vandepump hinted that viewers are about to see her co-star's ulterior motives.
"So really the essence of this episode is who should you believe? Brandi or me. . .It's a simple as that.
"There is definitely a puppeteer in this scenario, and I trust that you will figure it out," she added.
So who do you believe: Lisa Vanderpump or Brandi Glanville? Tell us below.