'Grow Up & Get A Life!' Brandi Glanville Launches Scathing Attack On 'Obsessive' Co-Star Lisa Vanderpump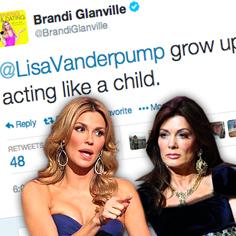 Article continues below advertisement
It wasn't all hate though, as Glanville also acknowledged her former friendship with Vanderpump.
"I feel like everything I say is being questioned. I feel they're all ganging up. It's really hard. I don't want to cry. I just know I'm being such a good friend. I've always defended Brandi and it has been difficult," she said.
"Brandi prides herself for being brutally honest — but it's more brutal than honest."
But Glanville shot back, "She's someone who can't deal with confrontation. She's afraid of the truth."