Exclusive
Brandi Glanville Accused Of Scripting Drama On 'Real Housewives Of Beverly Hills'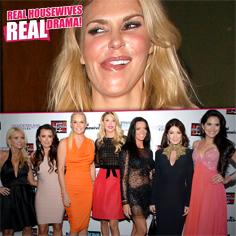 Real Housewives of Beverly Hills star Brandi Glanville has been accused by cast members of staging fights and creating drama — all for the cameras — RadarOnline.com is exclusively reporting.
RadarOnline.com spoke with several current and former housewives who claim, "Brandi would call before filming for the day would begin…she would say, 'Ok, I'm going to start a fight with you on camera, and I want you to go along with it, but it's all for the show. I'm not really mad.'
Article continues below advertisement
"It was absolutely stunning that Brandi would be so bold, admitting to creating drama! She did this during her first season on the show, and continues to do so. The cast members wouldn't agree to it, which only seemed to embolden Brandi. She began to tell the ladies before starting a fight, 'This is just a warning, I'm going to have a go at you when we are filming.'"
Faked Scenes, Lies & Payoffs – The Ultimate Guide To Reality TV Shows
The source continued, "Glanville is extremely insecure and she felt the only way she could stay on the show and become a breakout star, was to be known as the sh*t stirrer. It obviously worked for her because Brandi has two best-selling books."
Glanville has feuded with virtually every cast member on the show, except for Yolanda Foster and Carlton Gebbia.
From claiming Kim Richards was a "meth addict" and threatening to kill Kyle Richards after she told Eddie Cibrian's ex-wife she was "trashy and classless," to current feud with Lisa Vanderpump over allegations the restaurant owner was once on the verge of bankruptcy, "Brandi has caused a lot of people a lot of hurt. What she is currently doing to one-time BFF Lisa Vanderpump is reprehensible," the insider added.
Article continues below advertisement
"Lisa always stood up for Brandi...she was a very good friend to her. Sadly, even though Brandi has gotten the entire cast to gang up on Lisa, will it be worth it to have lost such a good friend. Brandi just doesn't value friendships, and that is going to be her bad karma to deal with in the future."
Sources maintain to RadarOnline.com, "The feud involving Lisa and Brandi is absolutely real. Brandi has completely crossed the line concerning Lisa.
"Lisa doesn't need to stage drama on the show, what you see is what you get with her, on camera and off."