Exclusive
Inside Philip Seymour Hoffman & Justin Theroux's Twisted Drug Play -- The Sick Scenes That Were A Dark Omen Of Hoffman's Relapse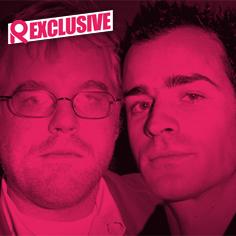 Article continues below advertisement
Hoffman's Mark "is possessed of enough chemical and sexual dependency issues to keep several clinics busy," one early reviewer wrote, citing Hoffman's "sometimes creepy precision" in playing the role.
Indeed, in the play's opening moments, Hoffman's character vomits -- apparently from heroin withdrawals -- as Theroux's Robbie comforted him.
"I hate the scag," Hoffman's Mark says, referencing a street term for heroin. "…I'm off the scag. Ten days without the scag. And I'm going away to a drug treatment center. … I need help."
In a tragic case of life imitating art, Hoffman would enter rehab himself last year after reigniting his heroin habit. Sadly, treatment was ineffective and he relapsed soon after -- as does his character in the play, eventually.
But when Hoffman's character returns from treatment, his first order of business is reigniting his relationship with Theroux's Robbie -- according to the script, the two were even directed to kiss multiple times, and Theroux was directed to drop his pants in front of Hoffman and ask him for oral sex.