Philip Seymour Hoffman: Broadway Darkened, New Details On Accused Heroin Dealer Robert Vineberg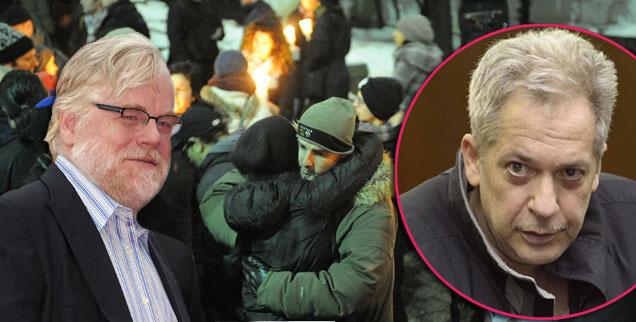 We've got all the latest updates on the death of actor Philip Seymour Hoffman, as friends and fans mourn following his fatal heroin overdose Sunday at 46.
Broadway Sends Their Regards To Philip
Roughly 200 members of New York's theater circuit gathered at the LAByrinth Theatre Company for a candlelight vigil in memory of the actor Wednesday. The 90-minute affair included the ceremonial dimming, and temporary shutdown, of the Broadway lights, for the star who spent a chunk of his 46 years delivering critically-acclaimed performances on the Great White Way. Eric Bogosian, a LAByrinth member, said that "courage was Hoffman's forte, always, and that the thrice-Tony-nominated actor "set his bar on the highest rung, on a rung above the highest rung. He pushed himself relentlessly until finally his efforts virtually redefined the very endeavor we call acting -- that's what he wanted -- he wanted to rock the world." Some of the actor's most notable Broadway outings included "True West," "Long Day's Journey Into Night" and the iconic "Death of a Salesman."
Article continues below advertisement
'A Very Active Ongoing Investigation'
As we previously reported, four suspects -- Thomas Cushman 48, Robert Vineberg, 57, Max Rosenblum, 22, and Juliana Luchkiw, 22 -- were arrested at the Mott Street apartment Tuesday, and much of the focus was on Vineberg, a jazz musician who was indicted Wednesday in connection with felony possession of heroin with intent to sell. While it's unknown if the actual heroin that felled the actor ever passed through Vineberg's hands, sources tell the NY Daily News that police have implemented "a very active ongoing investigation into who sold" Hoffman the fatal dose. Notable is that past New York legal precedents have dictated that drug dealers aren't liable for the death of their customer.
The Jazz Man
Vineberg's stepdaughter Christina Soto shed new light on the musician -- and his connection with Hoffman -- on Wednesday. She told the NY Daily News that the two had been acquainted over the course of the past year, but hadn't seen one another since November. The sax player -- who faces up to 25 years in custody, if convicted of the charges against him -- was "very upset" upon learning of Hoffman's death, Soto said, adding that he spoke about how he could have prevented the actor's death, had he been present. "He was very upset," Soto said. "He said, 'I wish he would have called me because I could have made sure if he was going to do something, someone was going to be there and he was going to be OK.'" She said that Vineberg, 57, "thought highly of" Hoffman and consider him to be "a great man." Asked if Vineberg, who has played music with Wyclef Jean, was guilty of the accusations levied against him, Soto stayed relatively mum, bemoaning a poor job market for the turn his life might have taken. "That's my dad: He got into this because right now he couldn't find any work , anything. This is the only thing he could think of," she said. "He couldn't even find work washing dishes." Vineberg's attorney Edward Kratt was emphatic that his client played no part in Hoffman's demise, saying, "I hope that the district attorney will not use Mr. Vineberg as a scapegoat in that unfortunate situation."
Article continues below advertisement
Youth Gone Wild?
Rosenblum and Luchkiw, both 22, were held without bail in connection with misdemeanor cocaine possession charges. Luchkiw, who was also charged with marijuana possession, is a college student at Parsons the New School for Design. Rosenblum, a DJ on the underground New York scene, has previously been arrested three times -- two are sealed, but one was a March 2010 narcotics possession. An unnamed pal told the NY Times that Rosenblum, who had been in rehab as a teen, is a "really nice kid, wouldn't hurt a fly."
Nothing To See Here
Cushman was not charged with anything by Manhattan district attorney's office. He told the NY Daily News that he was "visiting," but had "nothing to do with it." Cushman said he suffered injuries that left him with a blackened eye at the hands of police.
Speed Dial
Three cell phones recovered from a lower Manhattan apartment had Hoffman's number programmed into them, law enforcement insiders told the NY Post. The initial tip about the drug den came from a police informant who has also been linked to heroin use; the informant also had Hoffman's number, and claimed to have crossed paths with the Oscar-winner while both were scoring drugs last autumn.
Article continues below advertisement
He'll Be There For You
More famous faces were spotted at the Jane Street home Hoffman shared with his longtime girlfriend and mother of their three children, Mimi O'Donnell. Justin Theroux was spotted for the third time in as many days, while Joaquin Phoenix was there for the second consecutive day. One notable visitor was actress Michelle Williams, whose partner Heath Ledger died in 2008 from an overdose of prescription medication. Hoffman reportedly tried to aid Ledger with his own drug demons prior to his passing six years ago.