Did LeAnn Steal Brandi's Style? Rimes Flaunts Designer Heels — Four Days After Arch Nemesis Glanville Tweeted How She Wanted Them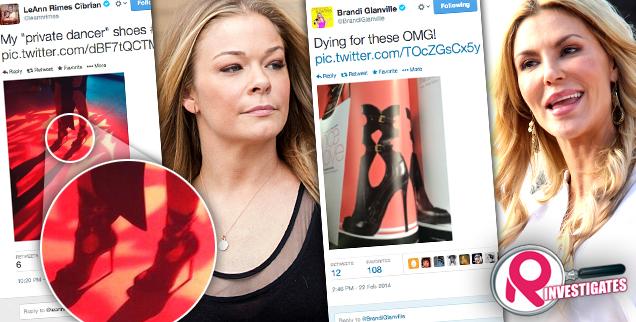 In her new book she openly admits that she joined Twitter to keep tabs on her then estranged husband Eddie Cibrian and his future wife LeAnn Rimes.
Now it seems the tables may have turned as RadarOnline.com has spotted that the country singer may be cyber stalking Brandi Glanville.
On February 22, The Real Housewives of Beverly Hills star tweeted a picture of a pair of black, high-heeled Alexander McQueen shoes that she spotted in a magazine.
Article continues below advertisement
The mom-of-two wrote: "Dying for these OMG!"
Just four days later, Rimes 31, tweeted a picture of her wearing the very same racy shoes.
On February 26 she wrote on her Twitter page: "My 'private dancer' shoes #mcqueen."
Last summer, Rimes was pictured on a beach in Cabo San Lucas, Mexico wearing a grey and pink bikini with a lacy trim.
But two days earlier Glanville, 41, wore something similar during a photo shoot on a Los Angeles beach.
However, the reality TV star's blue and white version was far skimpier.
Glanville is riding high at the moment with news that her latest book, Drinking & Dating, has just landed on the New York Times bestseller list.
On February 24 she told her Twitter fans: "I want to say a big fat Thank You 2 all of you peeps that got my book and made it a New York time sic best seller! :) #muchlove."