Spying On Hubby & The Back-Up Dancer? Miranda Lambert Reportedly Takes Steps To Make Sure Blake Shelton Doesn't Stray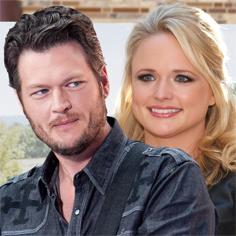 Miranda Lambert doesn't have eyes in the back of her head, but she might as well where it comes to her hunky husband, Blake Shelton.
A new Life & Style Weekly report claims the songstress has moles on Blake's tour who report to her if any funny stuff is going on, as rumors of Blake's roving eye (specifically, for singer Cady Groves) have dogged the couple in recent years.
"Miranda has befriended a lot of the folks on Blake's tour mostly production staff and they have promised to be her eyes and ears on the ground," a source told Life&Style. "Miranda is actually OK with a little bit of flirting -- she does some flirting herself.
Article continues below advertisement
"But she wants to make sure nothing crosses the line, and she has a plan in place to make sure she finds out."
Insiders close to the Voice judge and his star wife say that while things have been on the upswing for them, Miranda's trust was breached by the Cady fiasco, as "she'll always have fears in the back of her mind."
Blake is aware of the private eyes watching him, insiders told the magazine, noting that he's "fine with it … if it makes her more comfortable."
And whatever the case, it seems to be working as insiders say that "Miranda hasn't gotten any reports Blake's been behaving inappropriately on tour."
For more on country's first couple, stay here on RadarOnline.com.