Trouble? What Trouble! Blake Shelton Surprises Wife Miranda Lambert On-Stage at Concert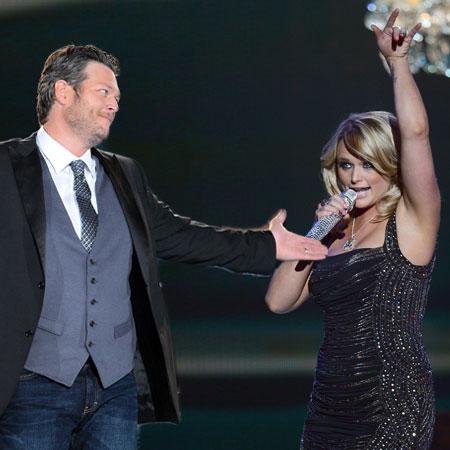 Blake Shelton and Miranda Lambert are still together and better than ever -- on stage at least.
As rumors of Shelton's cheating continue to swirl, The Voice judge made a surprise appearance at his wife's concert in Bakersfield, Calif., Thursday night, just in time for the couple's third wedding anniversary on Friday.
As Lambert's scheduled concert -- co-headlined with Dierks Bentley -- drew to a close, Blake shocked the crowd by strolling out on stage and yelling "Surprise!" before launching into his current single, "Boys Round Here!" as his adoring wife looked on.
Article continues below advertisement
"Hope you liked the surprise!" she tweeted after the performance.
On Friday, she posted a tribute to her husband of three years: "And.... 3 years ago today @blakeshelton asked me to marry him. Pretty great moment in my life. I really like him!"
More than eight hours later, Blake had yet to respond.
He famously began his relationship with Miranda right around the time of his three-year wedding anniversary with another woman, Kaynette Gern. He later left her for Miranda.
Once a cheater always a cheater? With rumors of tension at the marriage at an all-time high Blake's performance was the first time the couple were publicly reunited since the ACM Awards on April 7, when Miranda told reporters, "Divorce is not an option."
On May 3, Miranda partied solo at the Kentucky Derby, before heading to New York to do press with her all-girl country project, Pistol Annies. Blake stayed on the West Coast to tape live rounds of The Voice.
However, this time together could be short-lived. After finishing out the weekend in California, Miranda heads out across the country until the end of September for her "Locked and Reloaded Tour." The Voice finale will take place on June 18, after which Blake sets off on a cross-country tour of his own.
Be sure to follow us on Facebook and tweet us @Radar_Online.