Miranda's Jealous Rage!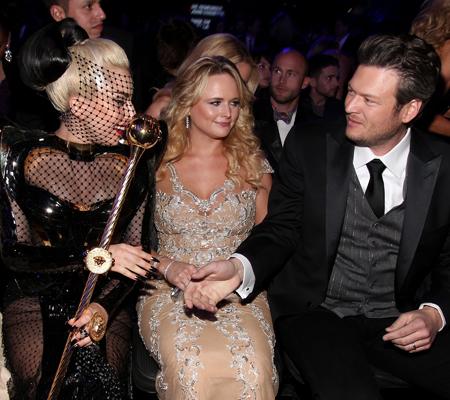 The Voice star Blake Shelton felt the full fury of the voice of his jealous wife, Miranda Lambert, when the country music duo attended the Grammys. An insider tells Star that Miranda closely watched handsome hubby Blake during the Feb. 12 awards ceremony at the Staples Center in L.A. — and when he got chatty with hot pop superstars Lady Gaga and Rihanna, it infuriated her.
"Miranda is extremely jealous and possessive of Blake, and she got very rude when they met Gaga at the awards," says the insider. "When Blake went to sit beside her, Miranda basically pushed him over so she could sit between them.
Article continues below advertisement
"And when he tried to lean across to engage Gaga in conversation, Miranda snarled under her breath, 'Don't even think about it!' She was shooting dirty looks at Gaga the whole evening."
Later in the evening, says the insider, Miranda's fuming continued backstage when Blake began chatting up Rihanna — whose violent on-again boyfriend, singer Chris Brown, has been a public target of Miranda's crusade against domestic violence.
"Blake was gushing to Rihanna about how great her performance was that evening and how hot she is — and you could practically see smoke coming out of Miranda's ears. She ended up pulling him aside and barking, 'Don't you dare talk to her!' She's very insecure about him being around other women."
That may not be so surprising. As Star reported exclusively last June, Blake, 35, cheated on his first wife, Kaynette Gern, with Miranda after they met in 2005 — and then cheated on Miranda, 28, two years later when he made out with a female fan on his tour bus in California. "Blake loves to ogle the ladies," says the insider, "and Miranda's afraid karma will come back to get her."