Blake Shelton & Miranda Lambert Marriage Struck With Cheating Accusations -- Here's The Truth!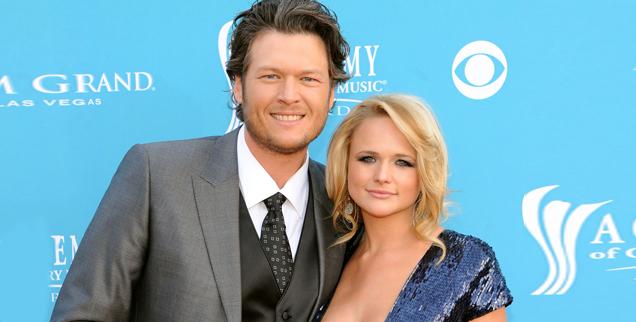 Are Miranda Lambert and Blake Shelton, plagued by cheating rumors, headed for a cliched country conclusion?
"Divorce is not an option," Miranda told Us magazine at the ACM awards Apr. 7, though recent reports have linked The Voice judge in a month-long affair with singer Cady Groves, 23, after the two engaged in a sexy back-and-forth chat on Twitter. (One source tells US Weekly that Blake "swears up and down that nothing happened.")
Article continues below advertisement
Still, Blake's charming ways with the ladies -- and history of faithfulness -- have to be taken into account, as when he first hooked up with Miranda, he was married to high school sweetheart Kaynette Williams.
Miranda "knows Blake comes off as flirty," an insider told the magazine. "She questions him at times and asks about certain girls. The rumors are hard to hear." With that in mind, Miranda has made extra efforts to tail Blake "on set to keep an eye on him."
Another source said that while Miranda "trusts him … she knows how flirty he appears."
Despite current rumors, don't expect a sad song for the first couple of country anytime soon.
One insider close to the hunky singer said the couple does everything they can "to make it work. They Skype, text and call each other constantly," the source told the magazine.
Miranda explained an agreement they have to not stay apart for more than 14 days at a time.
Article continues below advertisement
"Then, we have to see each other. After that, you start building up walls, and then it's too hard to get to know each other, you know?"
Hunky Blake told the mag, he doesn't feel "100 percent at home" when Lambert's not around.
And for those who prefer physical evidence, the couple was "all over each other" while shooting Shelton's video for Boys 'Round Here in Los Angeles Apr. 8, an insider told the magazine.
"We really love each other and have a marriage," she told the magazine. "You go through the hard stuff together, and those are the moments that actually count.
"The rest is just fluff."