Exclusive
Seeing Double: LeAnn Rimes Wears Same Bikini As Husband's Ex Brandi Glanville — Just A Few Days Later!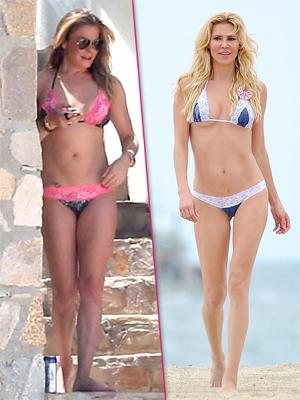 Talk about double trouble!
County music superstar LeAnn Rimes showed off her killer beach body in a hot pink and grey bikini in Cabo San Lucas, Mexico, at the weekend during a romantic vacation with husband Eddie Cibrian.
But it was something that we'd seen before!
As RadarOnline.com has uncovered, the two-time Grammy Award-winner's arch nemesis, Brandi Glanville, wore an almost identical suit just a few days earlier... just in a different color.
Article continues below advertisement
The Real Housewives of Beverly Hills star flaunted a blue and white version of the itsy-bitsy bikini on a Los Angeles beach for what appeared to be a staged photo shoot.
Not surprisingly, sharpshooters were quick to take aim at Cibrian's second wife though.
One armchair critic wrote on Twitter: "Leann rimes isn't even trying to hide her crazy anymore.. Same bikini as Brandi on Cabo trip???"
Do you think this latest "bikini blunder" is an innocent fashion faux pas or is the pair's rivalry heating up in a teeny bikini war? Tell us in comments, below.