Kim Loves Wiener … Schnitzel! Kardashian's Frozen Face Takes In The Sights In Vienna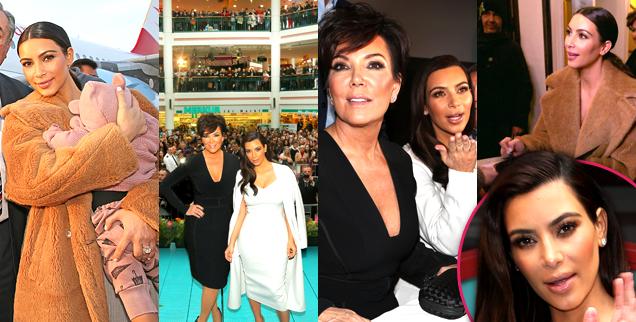 How do you say "lay off the Botox" in German? Kim Kardashian and her mom Kris Jenner stormed Vienna on Thursday as Kardashian prepares to attend the city's storied Opera Ball. And the duo looked suspiciously fresh faced for having just taken a transcontinental flight. Did they visit their doctors for a touch-up before packing their bags?
Plastic surgeon Dr. Anthony Youn, who has not treated the pair, recently told Radar that Kardashian's face shows signs of work. "It appears to me Kim's had quite a bit of work done," he said. "Some she's admitted to, and some we can speculate about."
Article continues below advertisement
The Keeping Up with the Kardashians star copped to having Botox done back in 2010, and Dr. Youn confirms, "I believe she's undergone Botox injections to smooth the wrinkles of her forehead and her frown lines."
In addition, he claimed, "She looks like she's had a Botox brow lift, where Botox is injected in a pattern to raise and arch the brows."
Finally, he said, "I do believe she may have gone under the knife for a nose job … and her lips appear to have been plumped with fillers, although she doesn't sport the 'trout pout' of some other reality stars."
As for mom Jenner, her sister Karen Houghton has previously said that she's spent $1 million on plastic surgery over the past several years.
More recently, Dr. Youn said, "Her face looks almost unnaturally tight, possibly due to a combination of chemical peels and laser treatments."
"Her forehead and upper face are remarkably wrinkle-free," he said, "I suspect as a result of quite a few Botox injections. Her cheeks are also plump, and could be due to injections of the new FDA-approved Voluma cheek filler."
Article continues below advertisement
In any case, Kardashian and Jenner had reason to look there best: Kardashian is in town as the guest of 81-year-old business tycoon Richard Lugner, who has a tradition of inviting pretty young dates to the Opera Ball each year.
His past escorts have included Pamela Anderson, Dita Von Teese, Paris Hilton, Carmen Electra, and one of Italian Prime Minister Silvio Berlusconi's infamous "Bunga Bunga" girls.