Criminal Influence: Justin Bieber's Dad & Party Pal Jeremy Has History Of Assault, Jail Time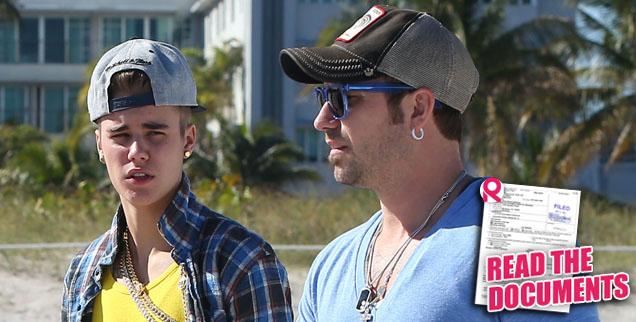 Who needs an entourage of hanger-ons when your dad's your best party pal?
Justin Bieber's father Jeremy has been by his side as he was arrested for drag racing in Miami, partied it up in clubs across the country and reportedly hotboxed marijuana on a recent private jet flight. Bieber continues to insist, "I have the greatest dad in the world … my superhero."
But RadarOnline.com has exclusively learned that the elder Bieber could be a seriously dangerous influence on the troubled pop star: According to Canadian court records, Jeremy has been arrested for assault multiple times and was sentenced to jail more than once!
Article continues below advertisement
Court documents in the cases have since been destroyed, but the Ministry of the Attorney General in Stratford Ontario has provided RadarOnline.com with records that show that Bieber was arrested for "assault or causing bodily harm" on January 24, 1997.
He was sentenced later that year to 90 days in jail, two years of probation, and was prohibited from using firearms for ten years.
Only months before his probation ended, on March 8, 1999, he was sentenced to more time for failing to comply with that probation: 21 days in jail and two more years probation. Yet another probation violation also netted him 30 more days in jail.
On November 3, 2002, Jeremy was arrested yet again for "assault with a weapon causing bodily harm." That case was later dismissed on January 6, 2004.
Even before these arrests, Jeremy allegedly had "a long history of criminal activity," according to Justin's mom, Pattie Mallette. She expressed these concerns in a custody hearing over Justin in April 1995, even claiming that Jeremy had threatened to kidnap Justin during one of his visits.
Article continues below advertisement
"It's absolutely no secret that Justin's manager, Scooter Braun and Jeremy don't get along. Scooter has been the father figure in Justin's life, and then all of a sudden, Jeremy pops back on the scene….look at all the chaos in Justin's life," a source previously said. "Scooter is the voice of reason, and tells him stuff Justin doesn't want to hear, and Jeremy is the opposite."
Do you think Jeremy is a bad influence? Let us know in the comments!