George Zimmerman's Latest Victim? His Girlfriend Showed Cops Shocking Photo Of Marks On Her Neck Amid Claims He Choked Her -- See The Photo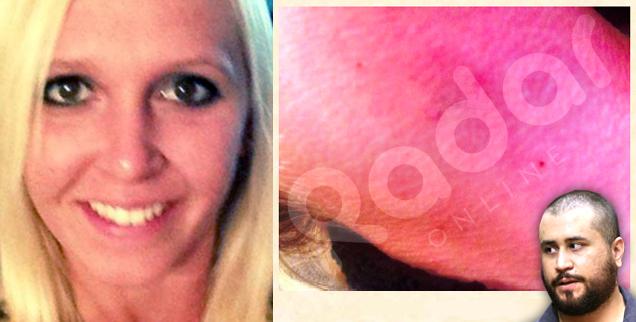 Article continues below advertisement
"She said that one to one and a half weeks ago, she and George Zimmerman had an argument at home," the documents read. "During the argument, according to Samanta Scheibe, George Zimmerman grabbed her by the neck and choked her."
Scheibe "said that George Zimmerman grabbed her neck with both of his hands from the front while facing her and choked her to the point that she could not breathe," the documents continue.
After telling cops "that she took a photograph of the marks with her cellphone," Scheibe produced the picture, according to the report, and the investigating officer noted "what appeared to be a red mark on her neck."
Zimmerman was later charged with felony aggravated assault in connection with the incident, but Scheibe eventually dropped charges, telling police that she wanted to get back with Zimmerman and had "misspoke" in her statements to them.