Exclusive
Inside Brandi Glanville's Little Black Book: The Actor, The Rapper, The NBA Great -- Her Most Scandalous Secret Hookups REVEALED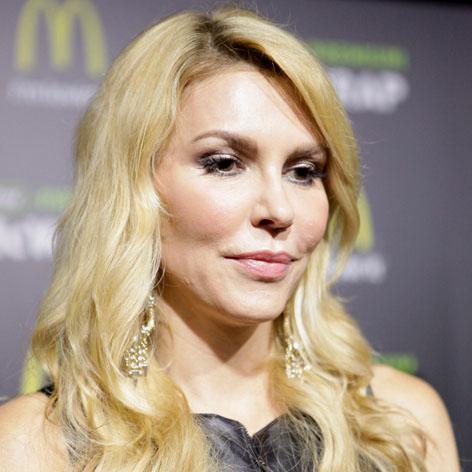 "I've never had a problem getting f*cked," Brandi Glanville proclaims in her new book, Drinking & Dating. And while some of her most memorable hookups have unfolded on The Real Housewives of Beverly Hills Glanville's opening up for the first time about her off-camera booty calls, dates, and one-night-stands in her new book Drinking & Dating. For the most part, Glanville doesn't name names, but can you guess the identity of some of her most famous men?
Article continues below advertisement
When they first hooked up, she was happy to discover that "His manhood was enormous -- the perfect cherry on top of this gorgeous chocolate sundae. It was so large that he had to special-order condoms just to fit him."
"But there was one problem I couldn't seem to get over," she reveals. "He was a huge f*cking stoner. … Every time he smoked, his ego seemed to inflate and I felt like I was just there as a sounding board for all his grandiose dreams. Acting, he explained, wasn't his end goal. After winning his first Oscar (For either acting or producing, he wasn't quite sure yet) and becoming a Grammy Award-winning recording artist, he planned to become a politician."
Article continues below advertisement
Glanville admits she eventually smoked pot with him to try to bridge the gap, but their relationship fizzled.
Another hookup with an addiction issue was "the fallen star," "one of the most attractive men I'd ever laid eyes on," Glanville writes, with "sparkly aqua-colored eyes, more tousled brown hair, and large chiseled arms covered in tattoos."
Aware of his history of addiction, Glanville says she only dated him after seeing AA slogans on his Facebook page. All seemed to be going well until one night she met him at a party and he was drinking a beer.
"There were so many things wrong with this, it's not even funny," she says. "But he said it was ok so calmly and matter-of-factly, I indulged him for that one evening. I've known a few people close to me who struggle with addiction, and although I had never heard this 'just the tip' method with drugs and alcohol, I didn't want to make a scene at this party."
But Glanville says she also "didn't want to seem supportive of these habits," and left. For the next three days, she claims, he was "radio silent."
Article continues below advertisement
"He went on a three-day coke-field bender with a bunch of his old friends," she says. Not long after, he went to rehab, and is now married with at least one child, and Glanville says she believes he is "going to be okay."
Next up is "the boy wonder," a 28-year-old "accomplished filmmaker who resided in one of the most exclusive and luxurious hotels in Los Angeles."
"Despite the success he'd already found, he was still a little boy in so many ways," she remembers. "He'd arrive for dinner in a Polo shirt with an oversized Ralph Lauren brand logo, jeans, sneakers, and a mop of messy brown hair on top of his head."
And luckily for the RHOBH star, he "had a thing for cougars." When he didn't make a move after their first night together, Glanville says she "thought he must be gay." But more than a year later, they finally did the deed after becoming close friends. Glanville admits to being "semi-intoxicated" and says "I barely remember it."
That wasn't an issue with a height-challenged "up-and-coming comedian" who would become a household name. "He had the kind of face you remember," Glanville writes. "Sharp features, thick dark hair, and a goofy grin."
Article continues below advertisement
During their date, she says, "We laughed so hard … that my stomach was hurting and my jaw was sore (It sometimes ends up sore after a date, but not from giggling)."
"It only turned awkward," she says, "when I asked him why he still had photos of his ex-girlfriend, now a well-known actress, everywhere. He mumbled something and changed the subject."
The 17 Highest Paid Media Figures On TV
Unfortunately, it got more awkward in the bedroom. "We had spent the entire evening laughing so much that I couldn't stop laughing when it was time to get serious," Glanville admits. "Every time I looked at him, I'd think of something funny he said or remember one of his characters and would burst into hysterics. It didn't help the mood." The relationship went nowhere after that.
Finally, Granville gets X-rated describing her dates with an NBA star who is best friends with another NBA star who was married for 72 days to a reality starlet. (Kris Humphries, anyone?)
"He was six feet eleven," Glanville brags. "…The energy between us was out of control and even the simplest gestures became sexual."
"We couldn't keep our hands off each other," she remembers. "…By the time I was on my third glass of wine and he was on this third potato vodka, the heat was turning up. His hand found its way under the table and up my dress. … It was on like Donkey Kong."
Article continues below advertisement
On the way to his place, "We made out like teenagers every time the car hit a traffic light or stop sign," she writes. "His fingers were all sorts of ways up my dress … 'You have to pull over,' I said with heavy breath…"
"When the car was finally in park, I tried to get on top of him," she explains, "but it was not working in this tiny car."
Faked Scenes, Lies & Payoffs – The Ultimate Guide To Reality TV Shows
And so, she admits, they had sex on the hood of his car by the side of the road.
Those are just a few of Glanville's alleged celebrity conquests.