Exclusive
Who's That Man, Mommy? Bethenny Frankel NOT Planning On Introducing New Boyfriend To Daughter Bryn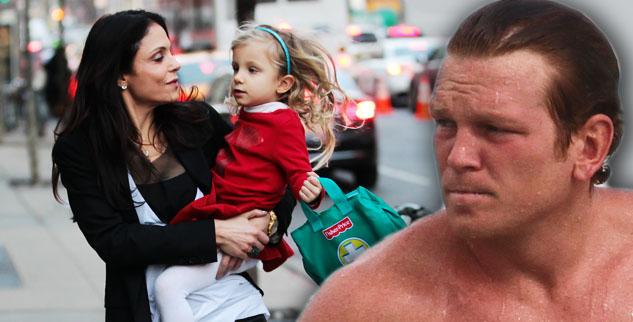 Bethenny Frankel was proud to flaunt her new much-younger boyfriend when the two frolicked in Miami earlier this month. But back in NYC, RadarOnline.com has learned, she has no plans to introduce boy toy Michael Cerussi, III, to her daughter Bryn, as she continues her messy custody battle with estranged husband Jason Hoppy.
"There is no way Bethenny would even think about introducing Bryn to Michael," an insider tells RadarOnline.com. "It would just be too confusing for such a young child."
Article continues below advertisement
"Give Bethenny some credit," the source continues. "She has no restrictions on who she brings around Bryn. Jason tried to play that card in court and lost! If Bethenny was really spiteful, she could have introduced Bryn to her new man, but she didn't. More than anything, Bryn is being shielded as much as possible by Bethenny from all of this divorce drama."
As RadarOnline.com previously reported, Hoppy plans on asking a New York judge to prohibit Cerussi from spending time with Bryn.
Article continues below advertisement
"Jason had previously asked a judge to issue an order prohibiting Bethenny from having any of her boyfriends around Bryn," a source said. "The judge denied Jason's request before, citing the fact that there was no evidence that being around her mother's boyfriends harmed her."
But now, "Jason is currently mulling over his legal options in light of the reports that Bethenny is dating Michael," the source continued. "He is concerned about the past allegations of rape surrounding Michael."
MORE ON:
Celebrity Justice
As RadarOnline.com reported, Cerussi was kicked out of college after a schoolmate accused him and his fraternity brother of raping her during an incident in 2000. Cerussi vehemently disputed the allegations and filed a lawsuit against the school and his accuser in a bid to maintain his innocence and be re-instated in school.
Court documents showed Cerussi was expelled from Union College — a small, independent liberal arts college in Schenectady, N.Y. — during his senior year, after a college disciplinary board found he raped a Union student.
Article continues below advertisement
Cerussi reportedly was not criminally charged in the incident, nor was his brother. He said last week, "Claims were made to the school, which were false and unfounded and ultimately withdrawn."
But one of Frankel's previous paramours did pass the test with Hoppy. Our source reveals, "Bryn did spend time with Bethenny's previous boyfriend, billionaire, Warren Lichtenstein, because she has been friends with him for years. Bryn has been around Warren since she was a baby."
Now, "Jason is just out to get Bethenny, and make her look like a bad mother," the source insists. "That is why he still wears his wedding ring. They filed for divorce a year ago, and he is still wearing the wedding band, it makes no sense ... It's time for him to admit defeat, move out of the apartment, and let all of them move on with their lives."