Bethenny Frankel's Estranged Husband Doesn't Want New Lover Spending Time With Their 3-Year-Old Daughter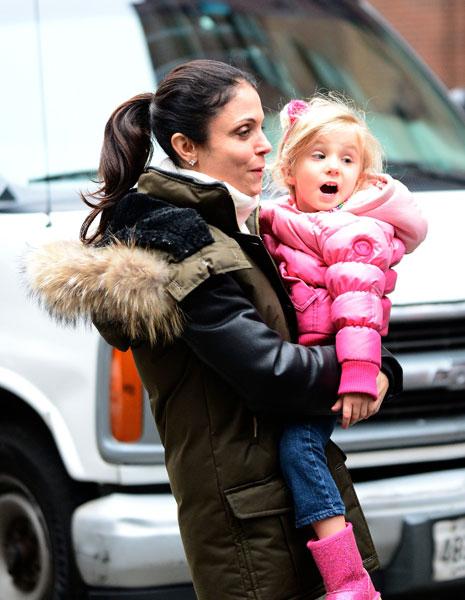 Jason Hoppy wants a New York judge to prevent his soon-to-be ex-wife Bethenny Frankel from allowing her new boyfriend to spend time with their three-year-old daughter Bryn, RadarOnline.com has exclusively learned.
As we previously reported, the television talk show host is dating Michael Cerussi III, a successful financial advisor who comes from a wealthy family.
But he was, until recently, also hiding a sordid secret: Cerussi was kicked out of college after a schoolmate accused him and his fraternity brother of raping her during an incident in 2000. Cerussi vehemently disputed the allegations and filed a lawsuit against the school and his accuser in a bid to maintain his innocence and be re-instated in school.
Article continues below advertisement
A source close to Hoppy told Radar: "Jason had previously asked a judge to issue an order prohibiting Bethenny from having any of her boyfriends around Bryn. The judge denied Jason's request before, citing the fact that there was no evidence that being around her mother's boyfriends harmed her.
"Jason is currently mulling over his legal options in light of the reports that Bethenny is dating Michael.
"He is concerned about the past allegations surrounding Michael. It's just a very sad situation because Jason and Bethenny continue to argue over care of Bryn, all while still living under the same roof."
As RadarOnline.com was firs to report, court documents showed Cerussi was expelled from Union College — a small, independent liberal arts college in Schenectady, N.Y. — during his senior year, after a college disciplinary board found he raped a Union student.
Article continues below advertisement
Cerussi reportedly was not criminally charged in the incident, nor was his brother. He said last week, "Claims were made to the school, which were false and unfounded and ultimately withdrawn."
Frankel, 43, had been previously linked to billionaire Warren Lichtenstein.
On Monday, the former Real Housewives of New York star was holding Bryn, as they get out of a black SUV.
In front of videographer, her daughter points to the male driver and calls him "daddy."
Said our Hoppy source: "Jason would like to get the divorce and custody settled, once and for all. Bethenny is making it impossible. He just can't understand why Bethenny has no problem parading men through Brynn's life at such a young age, especially since Bethenny complained her mother did the same thing when she was a child!"