Ooh, La La! Robin Thicke Hits Up Famed Parisian Strip Club -- Without His Wife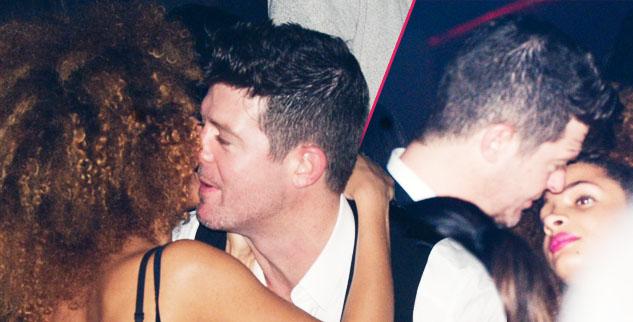 Paris is known as the city of love, and Robin Thicke was definitely feeling lust, at least, in the French capital this weekend. After getting close to a hot young brunette while partying at Club 79 on Friday night, RadarOnline.com has learned, he visited infamous Parisian strip club Crazy Horse -- without wife Paula Patton!
The notorious strip club posted an announcement about Thicke's visit -- including a photo of him hobnobbing with dancers wearing robes and probably little else underneath. The club later deleted the pic, but not before it was picked up by French bloggers. Maybe Patton found out? She certainly was not mentioned in any of the posts.
Article continues below advertisement
If anything, Thicke's wife shouldn't have been surprised. Not only does he have a history of extramarital flirtations, seemingly with her approval, he also sang about Crazy Horse specifically in the song "Meiple" with Jay Z.
"Meiple, I take you to the lead brasserie," Thicke sings on the Paris-themed track. "We take a show at the Crazy Horse. They got nothing on you."
Thicke insists that he and Patton are still going strong after more than 20 years together.
He said this fall, "...we're no different than any couple out there, and we have our fights, we have our problems. But somehow, there is this big bang theory that just pulls us closer to each other and we are madly in love. Can't quit each other."
Thicke was in France to perform as opening act for Maroon 5 at the Bercy Arena on Sunday night.