Carlton Gebbia Is A 'Walking, Talking Contradiction,' Blasts Costar Kyle Richards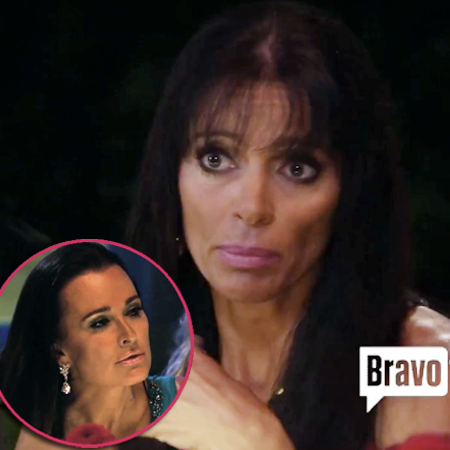 Move over, Brandi Glanville. There's a new BAD girl in the 90210.
During Monday night's episode of The Real Housewives Of Beverly Hills, Carlton Gebbia rubbed her co-stars the wrong way with some blunt comments.
Kyle Richards called Gebbia a "hypocrite" after the self-proclaimed Wiccan trashed talked her costar for confusing her pentagram tattoo for the Star of David.
"Why does she think my asking if it was a Jewish star is offensive? Carlton's rude comments and unprovoked attacks have grown old. She is a walking, talking contradiction," Richards vented afterwards on her Bravo blog.
Article continues below advertisement
"She preaches loving all Gods' creatures, no liking drama, not being judgmental, always giving people the benefit of the doubt (clearly not with me) and not putting labels on someone. Then, her actions are the exact opposite of what she is always preaching about."
Though Richards tried to smooth over the tension, Gebbia continued to rant about her while hanging at Yolanda Foster's Malibu mansion, telling the women that she had a dream and now thinks Richards been talking bad about her.
"I'm not a psychologist, but it seems like she is projecting if you ask me. I am grateful Joyce Giraud told her flat out that I have not been speaking against her and also pointed out in her interview that it's all in her mind," Richards wrote.
She continued to question Gebbia's authenticity, adding: "Carlton then goes onto say: 'Who makes fun of someone's religion?' I NEVER made fun of her religion. I would not make fun of ANY religion. I converted from Catholicism to Judaism. Who am I to judge? I have friends of all religions and respect each of their beliefs."
What do you think of the new RHOBH's feud brewing between Kyle and Carlton? Tell us in the comments below.