Princess Diana Tell-All Book: Her 'Humiliation' & 'Dark Days' About Prince Charles' Affair To Be Revealed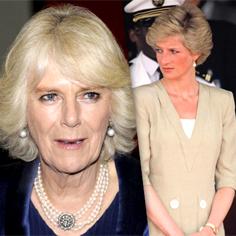 Princess Diana was teenager in love when she married Prince Charles, but their marriage "went sour" and a new tell-all book from a royal insider is revealing the "humiliation" she felt by his scandalous affair with Camilla Parker-Bowles and the "dark days" she suffered through as an unhappily married woman.
The late princess, who was killed in a Parisian car accident that many believe was murder, was loyally served by her press secretary Dickie Arbiter for 12 years and he has penned a poignant memoire about his time serving Diana titled "Was That Alright?"
Article continues below advertisement
He began working for the royals in 1998, seven years before they filed for divorce and watched as their marriage crumbled.
"She had a relationship with her husband that…went sour," Closer magazine reported Dickie said.
An insider told the magazine that the book will reveal that "Diana was madly in love with Prince Charles at the start of their marriage."
However, the fairy tale would soon begin falling apart with an increasingly isolated Diana.
"She was just a lonely lady," Dickie said about the princess. "She…didn't have many friends. The number of friends, you could probably count on one hand, and not too many fingers for that, either."
Dickie worked for Diana as Charles' affair with Camilla was revealed, and the book will "delve into those dark days," and reveal her "humiliation" about the relationship.
Her infamous interview revealing the details of the affair came as a shock to Dickie, whose daughter told Closer that Diana did not anticipate the backlash she would receive and how it might affect her children, Princes William and Harry.
Diana spent long hours writing in her journal about her deepest thoughts and feeling instead of sharing her pain with friends and Dickie said "I think there was an element of loneliness," about why the princess was so private.