Exclusive
Cougar Attack! Madonna's NEW Boy Toy Revealed -- Just Weeks After Break-Up From Brahim Zaibat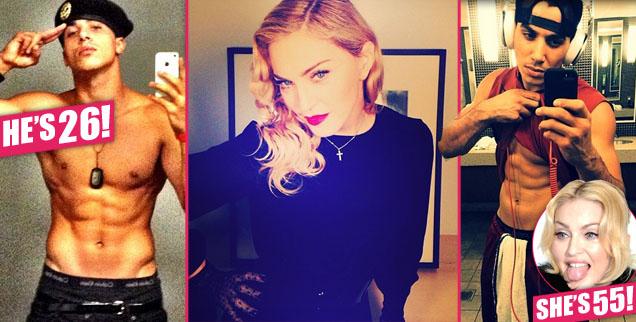 That was fast! Less than one month after Madonna announced her split from boy toy Brahim Zaibat, RadarOnline.com can exclusively reveal that she's already moved on with another hunk who's just as young and just as studly. Only RadarOnline.com has all the details on the 55-year-old's new man, 26-year-old Dutch backup dancer Timor Steffens.
Madonna debuted her latest plaything at designer Valentino Garavani's private New Year's Eve Party in Gstaad, Switzerland. According to a party guest, "The chemistry between Madonna and Timor was pretty intense."
Article continues below advertisement
But not everyone in the crowd of A-listers, which included Madonna's arch-nemesis Elton John, was impressed.
"Some people at the party were whispering about how Madonna had just broken up with her ex, and now she's already with a new guy," the source says. "It's that kind of crowd. Plus, you can't really ignore the fact that Timor is SO much younger than Madonna. I mean, he's basically a replacement for her ex. He looks just like Brahim."
But true to form, "Madonna didn't give a f*ck that people were whispering!" the source says. "She was really showing him off, drinking and dancing with him all over the place."
RadarOnline.com can reveal that Timor and Madonna have actually been working together on a dance project for several months, making him an easy choice for her rebound romance.
In fact, the source says, "It was obvious he was already close to all her kids, especially Rocco. They spent a lot of the night on New Year's joking around with each other."
Article continues below advertisement
"Madonna was even hinting to people that one of the reasons she likes Timor so much is because he's a natural with her children," the source says. "She isn't really the type to come out and say something like that, but it was obvious. She had a little smile on her face whenever she watched Timor goofing around with Rocco and the other kids."
"Madonna was really trying to make sure that her kids were comfortable and having fun too," the source says. Indeed, the singer drew criticism after posting a pic of her 13-year-old son Rocco holding a bottle of gin, but later insisted that "no one was drinking."
With Timor's age and look a perfect match for Madge, will he be more than a New Year's fling? Says the source, "Even if he is just a boy toy, he was pretty confident and charismatic. He'll be able to handle the pressure."