Told Ya So! Madonna Confirms Split From Boytoy -- And He's Already Back In The Arms Of Younger Blonde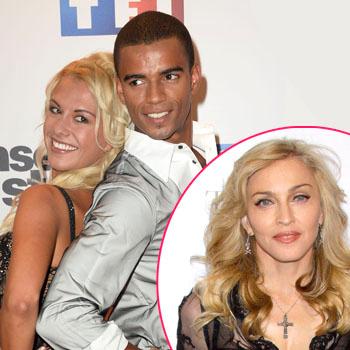 It's over! Just days after RadarOnline.com reported that Madonna and her French boytoy Brahim Zaibat were on the verge of a split, her rep announced Wednesday that their relationship was indeed finished. And RadarOnline.com has learned that Zaibat isn't wasting any time moving on, heading right back into the arms of the hot blonde dancer that he's been getting very close to in recent months.
Signs of trouble first arose when Zaibat, 28, was photographed getting cozy with his hot blonde dance partner on the French version of Dancing with the Stars, Katrina Patchett, 26, and French media accused them of secretly hooking up. Meanwhile, 55-year-old Madonna went on a trip to Haiti with her ex, Sean Penn, as RadarOnline.com reported.
Article continues below advertisement
And on Wednesday, her rep confirmed the split to US Weekly. "It ran its course," a source told the mag. "They … barely saw each other."
Indeed, Zaibat is going right back into work -- and play -- with sexy Patchett. On December 19, RadarOnline.com has learned, the two will kick off the Danse Avec Les Stars nationwide tour of France, which will run all the way through until the end of February.
That Was Quick! 25 Of Hollywood's All-Time Shortest Marriages