EXCLUSIVE INTERVIEW: Madonna's Fascination With Young Boyfriends Is 'Creepy,' Says Brother Christopher Ciccone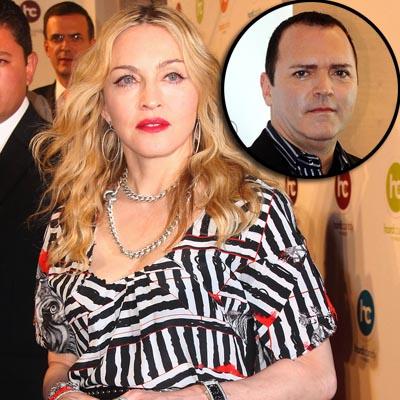 Madonna's brother Christopher Ciccone has admitted that his superstar sister's obsession with younger men is in danger of becoming "creepy", RadarOnline.com is exclusively reporting.
Ciccone -- who has not spoken to Madonna since he wrote a tell-all book, Life With My Sister Madonna, three years ago -- has been left bemused by her dating habits since her divorce from British director Guy Ritchie.
The 52-year-old superstar is currently dating French dancer Brahim Zaibat, 24, whose own mother Patricia Vidal is eight years younger than Madonna herself!
Article continues below advertisement
Before that, Madonna, a mother-of-four, was involved with Brazilian male model Jesus Luz who was also only 24.
"I guess if she continues to date all these much younger guys, it could start to look creepy," Christopher tells RadarOnline.com.
"But I think that a lot of Madonna's emotional needs are met by taking care of her children; these boyfriends must really be like a kind of distraction for her.
"She certainly isn't following societal values, but then again my sister never has and probably never will either."
One of the worst aspects of no longer being in Madonna's life for her brother is that he doesn't have any contact with her four kids. He is proud though, at the way her teenage daughter Lola has turned-out.
His extremely candid book deeply hurt his famous sibling, and although the rest of their family still talk with him, Madonna has frozen him out of her life, Christopher says.
"Lola has turned-out really well, and I'm sure her mother is very proud of her. Hopefully in time I can have the same relationship with Madonna's children as I do with my other sister Melanie's kids."
Article continues below advertisement
Madonna's former right-hand man has just started his own music management firm The Ciccone Factory and he is hoping he can land a reality show highlighting how he is molding some hot new stars.
Ironically, when he sees artists like Lady Gaga, he is reminded of when he was working alongside Madonna with elaborate dance routines and concerts that propelled his sister to become the world's biggest music star.
"I can see a lot of my sister's influence in what Lady Gaga is doing today. It's like 'Madonna on speed' actually," he says.
"I think Lady Gaga is a great writer, singer and performance artist, but sometimes she goes too far with her costumes and persona and it must be hard for her fans to identify with that.
"Madonna was a genius at changing her image into something that her fans could identify with and replicate if they wanted, and that's something I'm trying to teach my own acts as I try to mentor their music careers."